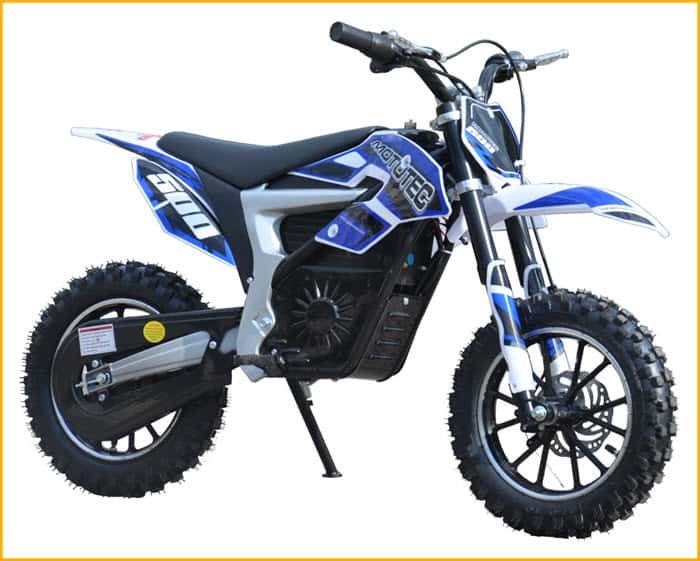 Electric dirt bikes are becoming more and more popular as technology makes progress and more companies get involved in manufacturing them.
As with most things Electric Dirt Bikes come in a range of different specs and prices, and it is in this post we shall be looking at the best electric dirt bikes for under $1000.
Here is a quick look at the top electric dirt bikes in our price bracket.
| | |
| --- | --- |
| Electric Dirt Bike | Price (New) |
| 1 Razor MX 650 | $580 |
| 2 Razor MX 350 | $329 |
| 3 Mototec 500 36v | $489 |
| 4 Mototec 500 24v | $388 |
If you looking to spend under $1000 on an Electric Dirt Bike then you are going to be at the lower end of the market for sure. To give you an idea of pricing, bikes range from as low as $250 which will get you a low end kids bike right up to somewhere in the region of $14,000 for the top end bikes being made.
There will be other considerations to make as well as the price, these are things like, the riders weight, battery quality and longevity, and what you are wanting to get out of the bike etc, but these are some of the areas we will include in this article.
For bikes to be in our price range we will be looking at brands like Razor, Apollo, XPRO and Mototec.
1.RAZOR MX650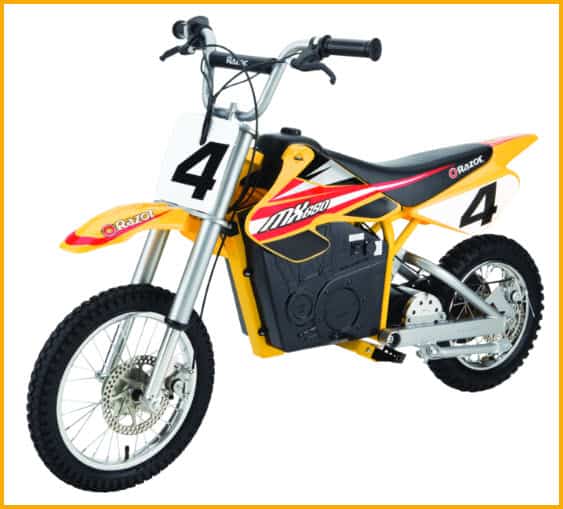 Razor are highly regarded by many and they first appeared on the seen when they re-invented the scooter which launched in 2000 with global success. They redesigned this retro toy and since then they have been leaders in the market.
Flying high on their scooter success story they expanded into other areas and now manufacture and sell a range of electric powered toys such as hover boards, electric scooters and electric bike to name a few.
Essentially Razor are toy manufacturer, but they are as close as you can get to bridging the gap between that and being a real dirt bike manufacturer in my opinion.
The RAZOR MX650 is aimed at teenagers but they also say it is fit for adults to ride and it is!
MX650 Spec v's Real Spec
Here is the spec that Razor advertise on their website about the bike.
Top Speed: 17mph
Battery Life: Upto 40 mins
Front and Rear Disc Brakes
Max Rider Weight: 220LBS / 100KG
Rider Age: 16+
We are used to seeing specs like this but we are also used to having different figures for what I call the real world and in this case it is no different, although in a good way for a change.
The speed of the bike is going to be something most people will be looking at, either because they are buying the bike for themselves and want to know they have a decent top speed, or perhaps because they are buying it for their kids and dont want it too fast!
If you have had any form of motorbike before then you know power is measured in CC's and you would be forgiven that MX650 means it is of equivilent power…it isn't. 650 relates to the model and nothing else, although they have labelled lower spec models with lower numbers, like the MX125 and MX350.
Well the Razors tops speed listed at 17 MPH and reports tell us that this is easily acheivable with a fair few people noting it is capable of higher and perhaps hitting the 20mph mark. That is good speed for a bike in this market when comparing to other bikes competing for the same custom.
It's a similar story with battery life. The 40 mins listed is of course going to vary depending on the weight of the rider and the style of riding, but I have seen people say they are getting 1hr + when riding on flat tarmac. 40 mins is about right if you are riding off road and hitting max speed at every opportunity.
The Max rider weight is what is and these will happily take an adult weighing in at the top end of the stated 220LBS.
Construction – Materials & Bike Weight
The Razor MX 650 is made from a solid steel frame with plastic fenders just like gas dirt bikes are. You get disc brakes on the front and rear which are operated using levers on each hand, so no foot brake like a gas dirt bike which would normally be used to operate the back brake.
The throttle is operated using the twist grip on the handle bars as you would expect and this gives the rider full control over speed and acceleration.
The handle bar risers are adjustable to accommodate riders of different heights.
The Razor MX650 weighs in at approx 105LBS / 48KG and is available in 3 different colour schemes. Yellow, black and red. Black or White and Orange.
The Battery – Ride Time / Charge Time / Replacement costs:
Razor use a 36v battery in this bike and they will cost you $140 with a 90 day warranty if buying direct from Razor. You can shop for different branded batteries and you will find these for $100 but I cant say how well these perform in the bike.
On the initial charge the battery will take approx. 12 hours to reach full capacity and you maintain the battery by making sure it is charged at least once per month so it doesnt deteriorate to the point where it will no longer accept a charge.
We have already touched onthe ride time, being around 1hour on flat surfaces like tarmac. This bikes however capable of going off road and taking heavier adults both of which will decrease this time and Razor state the run time as 40 mins.
MX650 Summary
Well priced
Quite when running
Low top speed
Can take an adult
Well built
Decent run time
People love these bikes for the money and I agree that for $580 the MX650 is worth it all day long. You need to bear in mind that they are more aimed at larger kids than adults, even though adults can happily ride them you wouldn't want to be taking one of these to a dirt bike track for racing!
If you are looking for a bike for your kid around 10 years of age or something for yourself to bumble about up and down the street then this is for you if the 17mph top speed is enough. It is also quiet running which means no annoyed neighbours when the kids are out the front most of the day on it.
A well maintained Razor MX650 will still be running 2 years down the line with no issues so you then have the ability to trade up when your child out grows it.
You can check out the Razor product page here – https://www.razor.com/products/electric-rides/mx650-dirt-rocket/
Razor MX 650 – Click For Latest Price
2.RAZOR MX350
Razor have taken the number 2 spot here with their MX350. They also do the MX400 and the MX500 but as we are looking at the best electric dirt bikes for under $1000 we are taking into te overall value of the bike.
The MX400 and MX500 in my opinion are dont offer the value as this bike and the MX650 (my top pick) because I would either recommend spending slightly more to achieve the top pick or save your money and go for this little MX350 model.
MX350 Specs
Rear Disc Brake – no front brake
Top Speed: 14 mph
Battery run time: 30 mins
Max Rider Weight: 140LBS / 64KG
Age: 13+
So Razor market this dirt bike towards younger kids and state the age of 13+, which could mean older teenagers can ride this but that would depend on their weight. With the max weight 140LBS some older kids will most definitley be to big for this and most people with this bike use it for kids aged 5-8 years old. This is because of the overall size of the bike being to small for taller kids making it un-practical.
If you are looking for an electric dirtbike for your teenager I would NOT be looking at this model, go for the MX650. Although you could consider the MX500 they will be outgrowing that in no time and the MX650 is only an extra $50, it's a no brainer.
Top speed on this bike 14mph so on paper it is not much difference to the top pick but you need to remember that bike can take riders upto 100KG which is an extra 36KG in comparison.
It is interesting that the MX350 only has a rear brake when the 650 only goes 17mph but has both front and back brakes. This make me wonder what the threshold is before they have to introduce the second brake. It is however decent quality and does the job.
If you are planning to purchase this bike for a small kids then training wheels maybe a good idea because keeping balance whilst learning the throttle control can be tricky for little ones.
These bikes are nice and quiet to run and are made with off roading in mind.
Construction Materials and Bike Weight:
You get the high contruction quality with all Razor dirt bikes when you compare them to market competition. The frame is made from steel and cladded in shatter resistant plastic fairings.
You get the twist grip for for the rider to control their speed and single rear brake which is controled by a lever on the handle bars.
Handle bar positioning is easily adjustable to suit the riders height and other features include a retractable kick stand, folding metal foot pegs, and 12″ pneumatic tyres.
The overall weight of the bike is only 55LBS / 25KG which is half the weight of the MX650 so its a light bike making it easy to transport.
You will be able to buy the MX350 in 3 colours: Red, Black or Blue.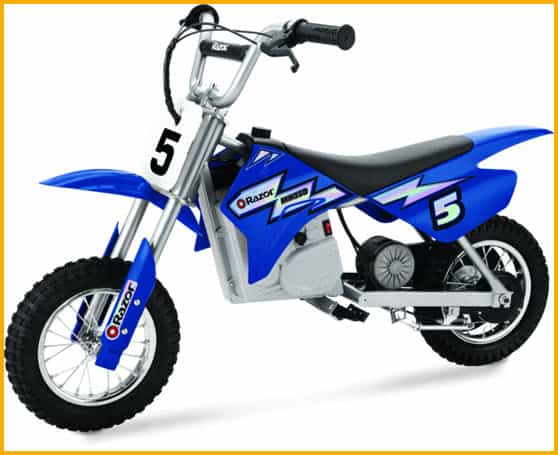 The Battery – Ride Time / Charge Time / Replacement costs:
The battery is a 7AH, 24v sealed lead acid battery which is made from 2 x 12v batteries. If you want a replacement buying direct from Razor.com is going to cost you $65. For reference the part number for a new battery is – W15120040003
FYI – If you are thinking of buying it with a spare battery to get extra run time, just be aware that it is not a case of plug and play, you will need to undo a series of screws as well as remove fairings to change out a battery. It's not a hard process but not sure you would want to be doing this roadside, it's better carried out at home. The whole process can be done in 15 mins.
Razor state the run time is 30 mins and just like the MX650 this is usually more like an hour. My theory is because most people are buying these for smaller kids due the fact they are small for the Razor recommended 13 yr olds. It's more like a bike for 4-8 yr olds and with this the kids are going to be alot lighter which will increase ride time.
If the bike is being used off road most of the time though then this will reduce the time so mayeb the 30 mins would be about correct.
The initial charge time of the battery when you first get the bike is 12 hours and then after you are looking at about 6 hours for a ful charge.
Razor MX350 Summary:
Cheap as chips as we say in the UK, or Peanuts as they say in the US.
Great build quality
Small kids only
Very quiet running
Low top speed
You just can't complain for the price of this dirt bike. Razor list the bike for $329 which is cheap, but I am not joking that at the time of writing this you can get one brand new on Amazon for $250!!! I know you almost have to buy it at that price. – You can check out the latest Amazon price here.
If you are considering buying this then I would just say to make sure you are going to get use out of it before the child grows up to quick which is a common error on these. That is probably due to the 13+ age listing on it from Razor.
Easy to use and charge a great little starter bike.
Razor MX 350 – Click For Latest Price
3. Mototec 500W 36v
Mototec are based in Wisconsin and manufacture a range of kids electric powered products including ATV's, Scooter and GoKarts to name a few.
This bike has a smaller version which is listed below and the main difference is basically the battery, one is 36v and the other 24v. Apart from that the spec is pretty similar and they have some cool features like the key lock, 3 speed selector and the way the battery pulls out.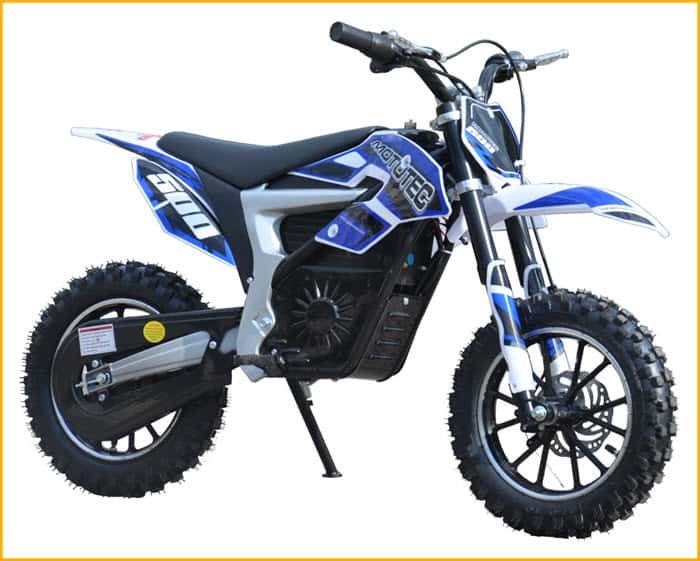 500w 36v Specs
Top speed: 16 MPH
Front and Rear Disc Brakes
Lithium Ion Battery
Front and Rear Suspension
3 Selectable speeds
Key Lock
Rider Max Weight: 150LBS / 65KG
The bike has front and rear brakes that are operated using levers on the handle bars. It also benefits from front and rear suspension which is not like the Razor models that only have front suspension. I would say though that perhaps this is overkill for a bike that has a low top speed and is aimed for lighter kids.
The 3 selectable speed allow the person with the key to adjust the speed to a one of 3 settings, low, medium and high. This in theory is good but in my experience the low setting means that the bike goes slow enough for a rider with little balance to topple quite easily. When you are on a bike the faster you go the more gravity pulls you down to the ground which in turn gives you more stablilty. Again as the top speed is only 16mph maybe just a high and low setting would surfice?
The key lock is a nice touch if you are worried about your child taking the bike out without your knowledge you can simply lock it and take the key.
The max rider weight at 150LBS is a decent top end weight for small kids but this bike is marketed towards 13+ so this limits the amount of people that should be riding it because the you get 13 year olds hitting the 150lbs mark so older kids will need to be lighter. For this reason I personally wouldn't be looking to buy this for a child over say 10 years old so they have time to grow with the bike. This is a similar situation to the Razor MX350 listed above.
Construction Materials and Bike Weight:
The bike weighs in at 53LBS / 24KG which is about right for this spec bike compared to others on the market.
The bike has a metal frame core with plastic fairings and comes in a single colour – blue. Others colours of this bike are of a different spec.
The wheels are made up of aluminum rims with 2.5×10 Knobby Pneumatic tyres, it has a padded seat that is 23 inches (570mm) high and has a ground clearance of about 9 inches.
The Battery – Ride Time / Charge Time / Replacement costs:
The battery is a 36v 8ah Li-Ion and will cost $149.00 to replace or get yourself a spare. One feature I really like that the Razor doesnt have is the ability for the battery to be taken out of the bike and charged on it's own. This is great because it means you can buy a spare and have it charge waiting to go, then when you need it simply pull out the flat battery from its position under the seat/rear fender and slot the charged one in and you are good to go.
The initial charge will be 12 hours as with all these bikes with a recharge time of approx. 6 hours.
Ride time is said to be 14 miles in ideal conditions.
Mototec 500w 36v Summary:
Decent bike weight
Some excellent features
Good battery
This bike does have some great features as you know. The battery being my favourite, the key lock, selectable speed and maybe the full suspension if thats what you are looking for.
However… this holds position 3 mainly because of the price. Its Just shy of $500 and if I was spending that I would go the extra and get the Razor top pick. It doesnt make number 2 because the Razor MX350 is simply great value. It's my opinion that the additional features, although neat dont really give me enough reason to go with this over the highly popular top spot.
4. Mototec 500w 24v
This Mototec is nearly exactly the same as the 36v with the obvious difference being the battery which we will get talking about in abit, the price is less and the bike weight is heavier.
The bike construction and dimensions are exactly the same. They must use the same frame, wheels, bars, fairings etc and use a different battery.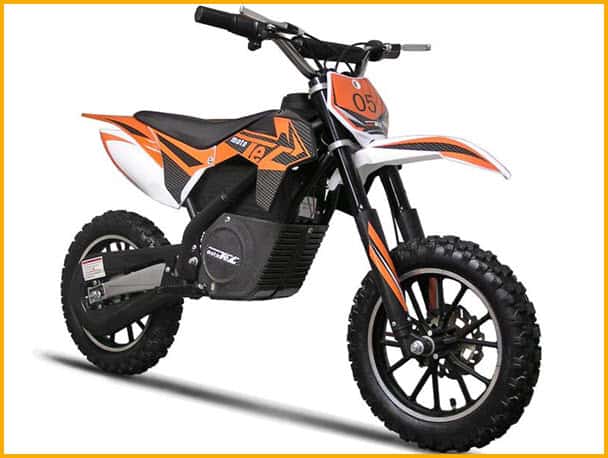 Mototec 500W 24v Specs
Top Speed: 14 mph
Front and Rear Disc Brakes
24v (2x 12v) Lead Acid Batteries
Front and Rear Suspension
3 Selectable speeds
Key Lock
Bike weight: 66 LBS / 30KG
Rider Max Weight: 150LBS / 65KG
Top speed on this machine is nearly the same as the higher priced 36v version of this bike but with only 24v you are going to lack some considerable pull on acceleration in comparison.
The weight of the bike is also about 20% heavier at 66LBS compared to 53LBS which will also slow it down.
Rider weight remains the same as the 36v as does the rest of the spec so frame size, brakes, selectable speeds etc..
There is no need to cover construction and bike weight as with previous bikes mentioned as it will be the same as the 36v and we have just discussed bike weight.
The Battery – Ride Time / Charge Time / Replacement costs:
The battery on the Mototec 500w 24v is single unit made up of 2 seperate 12v batteries. The case they are presented in slides into the rear end of the bike just like the 36v version and can also be charged without being in the bike.
To replace the 24v battery you would be looking to spend $130 to get an original and get be purchased straight from Big Toys USA – here is the link to the battery itself – https://bigtoysusa.com/mototec-dirt-bike-24v-battery-pack-pc-connector.aspx
Charge time is once again 12 hours for the first charge and 4-6 hours to recharge the unit back to full.
Ride time on this bike is billed at 30 mins – 2hours depending on different factors such as speed setting, terrain and rider weight. Due to the fact these are only carrying 24v it would be likely to see shorter times on heavy uphill and off road use so if thats your terrain then maybe go for the 36v if considering this bike.
Mototec 500w 24v Summary:
This could be great little bike for smaller , lighter kids that want to ride flat tarmac style loactions. Some great features but personally I would go for the Razor MX350 over this due to value, however if its the additional features that your after this may work for you.
General Battery Maintenance:
The batterys lifespan is going to depend greatly on your maintenance habbits. Its simple to keep a battery good but also easy to neglect them.
Most of these kids electric dirt bikes have batteries that will require an intial charge of 12 hours to get the attery up and running then recharging when it runs out. I know not rocket science but…
If you are not using the bike for a period of time then the battery will start to deplete so regular charging even when not in use is the secret.
Charging the battery once a month when the dirt bike is not in use will keep you batterys lifespan at it's optimum. This does not mean the battery will eventually come to it's natural end but will mean you dont bring that day forward.
You will need to refer to the manufacturers manual for each bike to get exact info but these types of batteries will do about 200 cycles of being fully charged to being fully dicharged. That could anywhere from 1-3 years depending on your riding time and battery maintenance habbits.
Deciding What Electric Dirt Bike To Buy
All of these dirt bikes are great bikes to own and fun to ride but maybe not all of them meet your criteria. Before purchasing an electric dirt bike for under $1000 you want to decide what you are buying it for and work backwards. Go through the above bikes and see what ticks your list, some of these are well within budget but you have you considered safety gear which is another expense?
Points of consideration
Build quality
Durability
Price
Speed
Reputation
Bike weight for transportation
Spare parts – costs and availabilty
Resell value?
Ride Safe, Be Protected
These eletric dirt bikes maybe classed as toys but tey go fast enough to cause serious injury if you are not properly protected.
Helmets and gloves should be the absolute minimum and bike boots and jackets highly recommended.