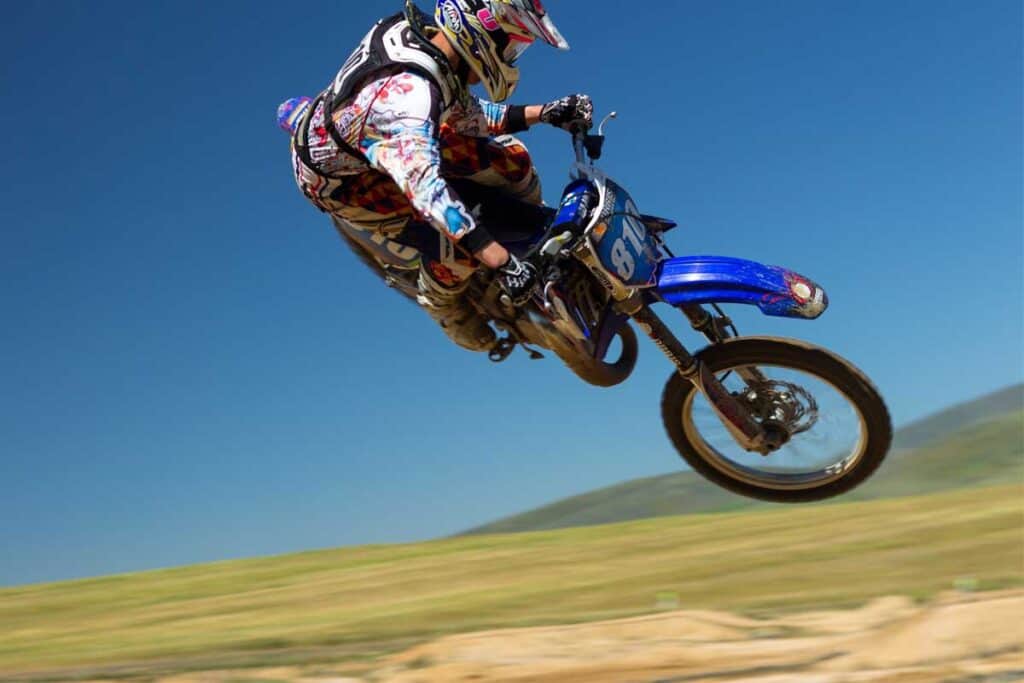 Everyone has heard of the top manufacturers like Honda, Suzuki, Yamaha and Kawasaki but many people who are new to the sport may not of heard of brands like KTM or Husqvarna so I thought it would be interesting to find the most popular dirt bike brand in 2023.
Honda takes the lead with 20.83% of riders preferring this brand in 2023. Yamaha, KTM and Kawasaki are all very close runner ups. Chinese brand Tao takes 2% at equal bottom with Daytona and Gas Gas.
It was very interesting to see a chinese brand like Tao make an appearance and come equal to well established brands like Gas Gas. Could this be a sign that chinese brands are starting to make tracks into becoming established on the dirt bike scene. Maybe others like Apollo and Mototec will start to follow.
The data shown on this post was gathered from a study of over 200 dirt bike riders with hundreds of hours of riding experience between them across a wide range of brands over many years.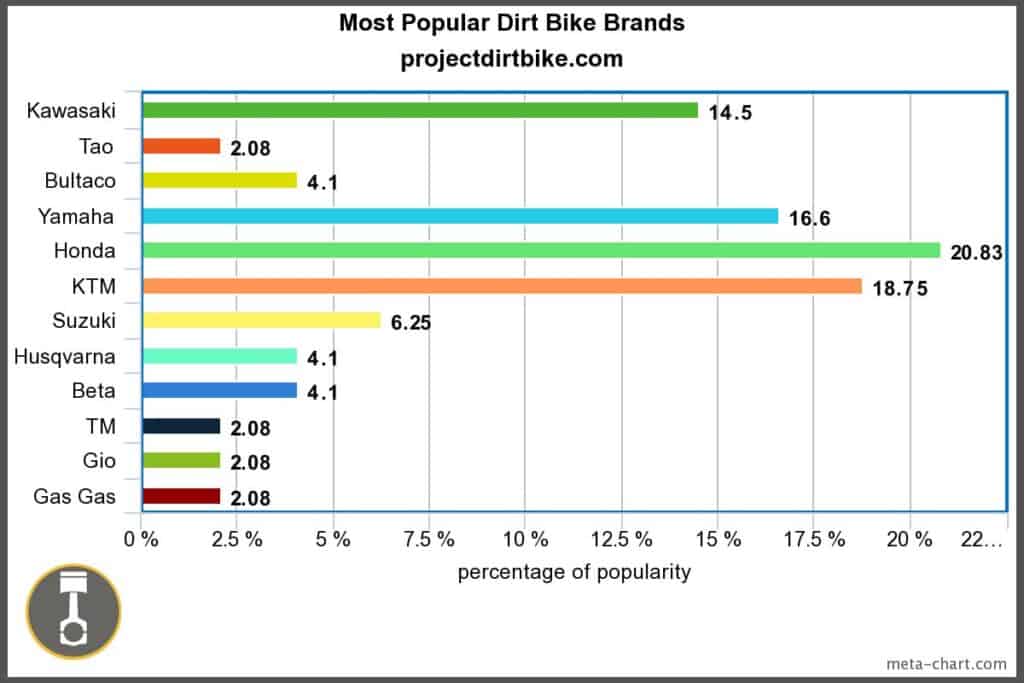 Honda
KTM
Yamaha
Kawasaki
Suzuki
Husqvarna, Beta, Bultaco
Tao, TM, Gio, Gas Gas,
Honda
With Honda taking the top spot I am a little surprised. That is not because I couldn't believe they could, and indeed I myself am a Honda fan (Honda XR250). It is just I thought KTM were top dogs.
Honda have many good bikes behind them and have been in the dirtbike business since 1948 which is going to bring a mass of experience.
This year the CRF450 will be raced by Ken Roczen and Chase Sexton and the CRF250 by Lawrence brothers, Jett and Hunter.
KTM
Everyone who knows anything about dirtbikes will know something about KTM's.
Winners of the MX world championship 2020 with Tom Vaille riding the KTM brand has dominated the sport for sometime. You hear people saying they own the sport they are that good.
Here us a little clip of the man himself.
Yamaha
The current comp bike for Yamaha is YZ range which has been in production since 1974. They are known as the BluCru and they won the manufacturers title for 2020 so clearly know what they are talking about.
No surprise to see them scoring near the top in this survey, and I would expect to see them anywhere from 1st to 4th.
Over the years they have dominated the sport with the YZ earning plenty of titles for them.
Kawasaki
The KX dirtbike is very well know by most and one I have a soft spot for. Anyone who has read my 'about me' page knows of my early riding experiences on one of these so I have fond memorys.
They are known as Team Green and have plenty of experience competing and winning titles in MX. In their own words they are 'the most decorated team in supercross and motocross racing'.
Find out more about the history of Kawasaki Dirt Bikes here
Suzuki
They are one of the big four Japanese power houses in motorbike production and these guys really didnt score as well as I thought with only 6.25% of the votes.
Max Anstie, Adam Enticknap and Brandon Hartranft make up their riding team for 2021 riding their RMZ450.
Fact: The Suzuki RMZ250 and Kawasaki KX250F are the exact same bike
In 2002 the 2 companies teamed up to compete against Yamaha who were at the time had one everything in the 450cc class and and were looking to take over the 125CC class with their YZ250F.
Find out more about the history of Suzuki Dirt Bikes here
Husqvarna
Working on motorbike developement since 1903 they are another title winning brand. Zach Osborne's won the AMA 450MX championship on their Rockstar Energy Husqvarna.
Although they only snatched just over 4% of the vote I feel they perhaps under rated or maybe people just know enough about them and end up buying another brand.
Beta
Who? That is what most people will say who are not into dirt biking of some kind and even amongst novice riders some wouldn't of heard of these guys.
That said they are world champs for the enduro 2020 titles : enduro 2, enduro 3, and enduro gp and have been a company since 1905 making them as old as Husqvarna.
They are an Italian company and have been winning titles on dirt bikes since the 80's!
Bultaco
Bultaco originated as a Spanish company started in 1958 after it's founder, Francesc "Paco" Bultó, left the well know Montesa Motorbike comany after it took a change in direction.
That company wrapped up in 1983 and the new Bultaco was born in 2014 but from what I can tell went bankrupt in 2019 and no longer exist.
From that info I was surprised they got 4.1% of the vote considering I hadn't heard of them. My only guess is these votes were old timers…but if thats their weapon of choice who am I to argue.
Tao
This was a turn up for books. Tao is a chinese manufacturer that make bikes selling for about $1000.
They are no competition for the big boys in my opinion but they really have grown in popularity as have other chinese dirt bike brands like Apollo.
In fact I wrote a post about Apollo recently (find it here) after seeing them about so much I decided to dig alittle deeper.
TM
TM are a strong Italian brand that has been going for over 40 years. They received 2.08% of the votes.
Looking at their webiste I found out they have over 20 titles to their name, mostly for supermoto but also for Enduro and MX.
I love the colour scheme of light blue and white for the MX range of motocross bikes.
Gio
Hands up on this one, I had never heard of them. Doing a quick Google brings up a Canadian based company called GVA brands and they appear to be in the similar range to the Tao bikes.
Gas Gas
What an awesome brand, Gas Gas are all about the dirt. I can see now reason why they have not acheived a higher position in our survey to be honest and think that if we let it run longer then maybe they would climb abit more then what they have.