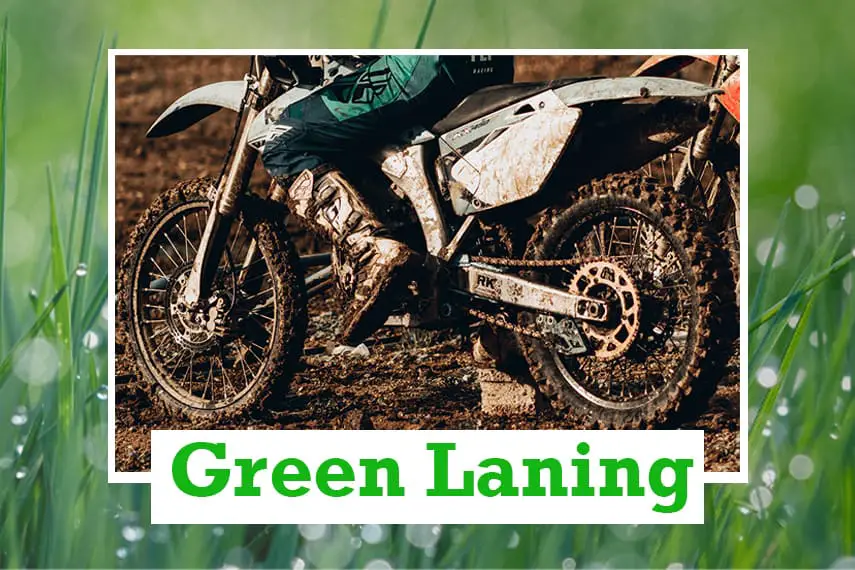 The main purpose of me owning my Honda XR250 dirt bike was to go green laning and I am ashamed to say I still haven't been some years later after buying it. Now I have decided that has to change and I will be ticking it off the bucket list.
The first question I had as a complete green laning newbie, was is it legal? Here is what i found out…
The rider must hold a valid license and the bike must be fully road legal, which involves having an valid MOT certificate, road tax and insurance. The green lane must also have the correct legal status to enable you have the right to ride on it.
So assuming you have you have the bike part sorted you just need to make sure you know where you can ride and you are good to go.
Next lets have a look at how to locate places to ride and checking out their legal status to make sure we have the right to ride them.
How To Find Green Lanes To Ride?
This was my second question and I found that after asking around no-one seemed to be able to give a definite answer. It felt like either nobody really knew but they liked to think they did, or they wanted to keep the information a secret and didn't want to let on.
Turns out it's not that hard to find green lanes yourself. Here's the manual process, then we shall look at other ways.
Use an Ordnance Survey map and read the legend to establish the lined pattern for 'Byway Open To All Traffic' (BOAT) listed under Public Rights Of Way and 'Unclassified Road' (UCR) listed under Other Public Access. Check the routes on the local council website for any Traffic Regulation Orders (TRO) that may prevent riding.
So the first thing you need is an Ordanance Survey Map which is a map detailing all routes in a scaled down format and are often used by the military and people like walkers for navigation.
If you buy the paper copy of an Ordance Survey map then you usually get a code on the back which gives you access to the online version for free, which is great because you get the digital copy to have on your phone.
You may wish just to buy the digital version from the start but personally I prefer having a paper copy to hand just incase all else fails.
OS maps come in different scaled sizes and I like to go for the 1:25000 known as the explorer series which is ideal for planing green lane routes. This ratio means that every 1cm on the map represents 25000 cm of real sized land. (which is the same as 250 meters.)
Below you can see an example from one of my local OS maps. You'll see the legend to show the patterned line that represents BOAT's and then a trail on the map.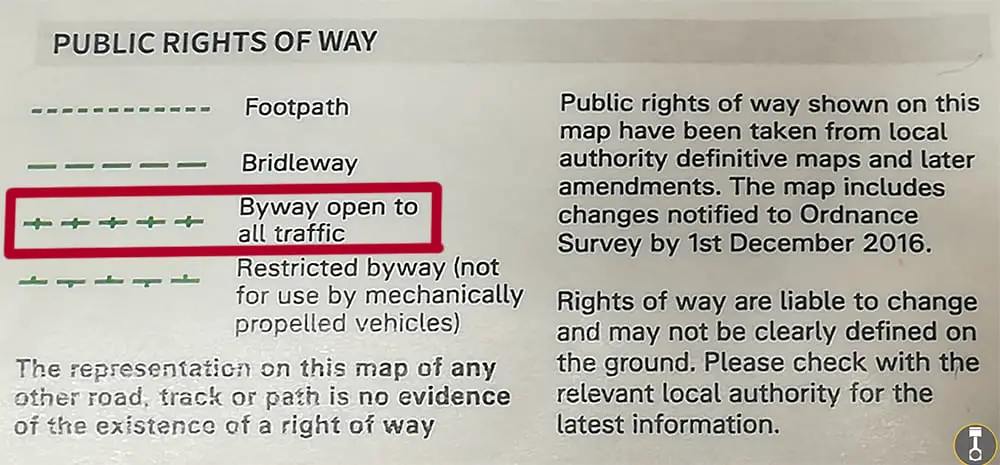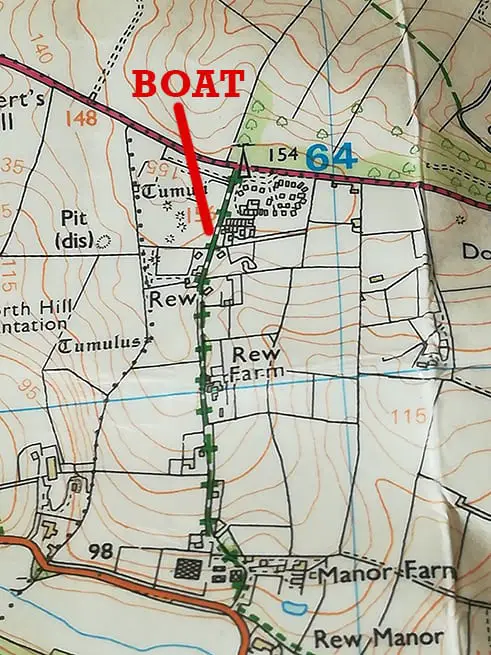 Planning A Green Lane Route.
Many people will highlight the routes on the map itself using a highlighter which makes spotting them easier the second time around. You can use a one colour for BOAT's and another for UCR's.
After finding a possible route then Google your county name followed by TRO and this will usually bring up the page they list their Traffic Regulation Orders on.
It is unlikely that you will find one corresponding to the trail you have selected but it is worth a check.
Another thing to point out is that not all trails will be accessible. Just because it's listed on the map as an open byway you can ride on, it doesn't mean it is passable. It maybe way to narrow to ride or really overgrown. This in particular can occur at times of the year when bush growth is strong, like in spring for example.
Once you have settled on your trail then you will need to consider how you are getting there. Many times you will not be able to ride a trail in a complete circuit unless you are going up and back on the same trail.
This means you will be linking trails with road riding which is why it is important to be on a road worthy bike.
Everything else is commonsense like the time of day, if it's going to be dark or not, if you aren't riding with someone then letting someone know your plans and expected times incase something happens.
You can find an article on what to take trail riding here which is a good way of preping for a ride.
Other Green Laning Resources
Clubs and Groups
If you don't feel like searching out routes yourself, or maybe you are not yet confident in exploring solo then joining a local green laning group is a great idea.
Facebook as many groups which are free to join and maybe worth searching for one in your area.
There is also large organisations which are great places to get trails and find people to ride with. Here are the main ones.
Trail Riding Fellowship
Membership to the TRF starts from as little as £52 per year. The benefits of joining this club is that you get loads of knowledge on trails all over the UK and you can link up with other riders.
One of their main purposes is to use your membership fee to fight against closures of green lanes by mounting a legal challenge.
Once a member you can also access discounts in a wide range of outlets for things like bike clothing, helmets, security and more.
Trail Wise 2
Run in conjunction with the Green Lane Association. It's a place that holds a wealth of info on routes across the UK. A great tool for planning trips.
For use for members of G.L.A.S.S
Green Lane Association
Known as G.L.A.S.S. this membership will cost you £44 per year plus a £4 joining fee which will give you access to a members forum, the above planning tool (TW2), 2 magazines a year through the post and a couple of window stickers.
Green Laning Apps
Green laning apps are great at helping you plan and navigate routes using your phone. On some you can download the maps prior to your trip so you don't a data signal to view them whislt riding. Good if signal is weak in the area.
Using your phones gps will give you a live location just like you car sat nav does.
Here is a list a commonly used apps.
TRF ViewRanger

OS MapFinder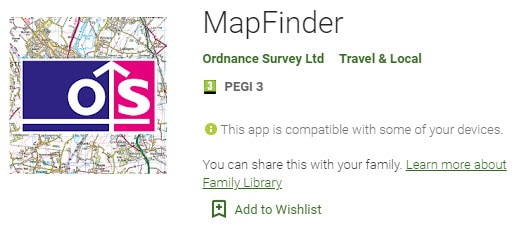 Legalities of Green Laning – Quick Summary
Green laning is a great experience for all levels of riders. In the UK we are lucky to have some really special trails on our door step. There is nothing stopping you if you have a road legal bike.
Finding routes to ride isn't hard, and for the small fee of £52 I would recommend joining TRF and the hard work is done for you.
One thing that I am really looking forward to in the future is to plan a long weekend green lane adventure, exploring lanes I haven't yet riden. What a great way to see the country.
Feel free to share any green laning experiences or tips in the comments.
Until next time…. Ride on.