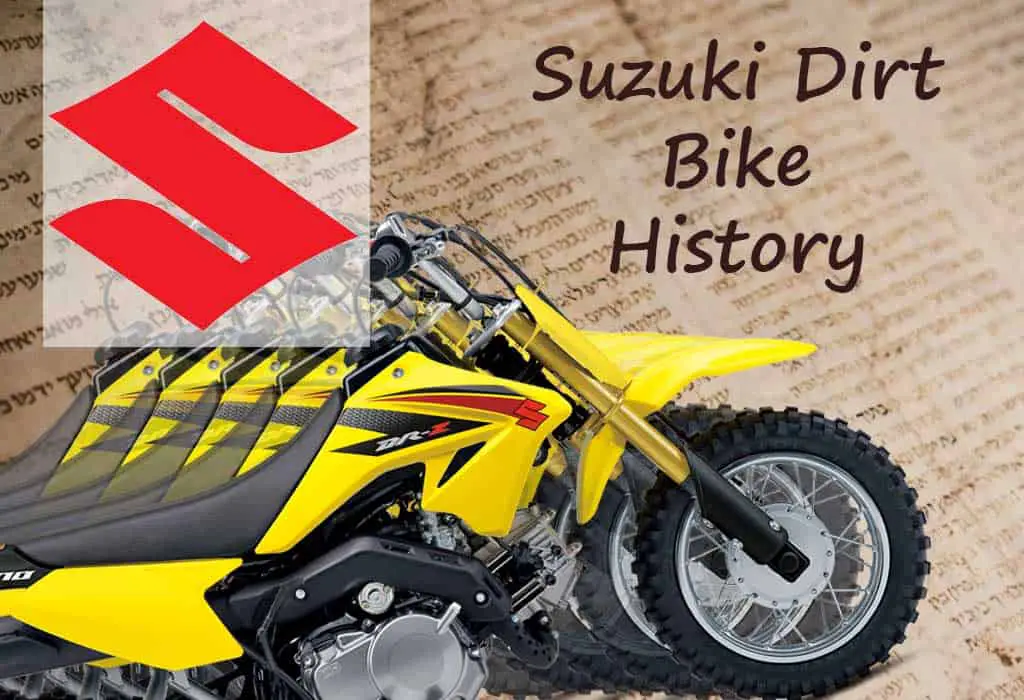 Everyone knows the brand Suzuki and it is perhaps obvious that it's Japanese. My only experience of owning one was a red Suzuki Bandit 650cc and I loved it. This was the bike I had before I bought my first dirt bike, the Honda XR 250 that is featured in the project section of this website. (see that here – Honda XR250 project)
If I hadn't bought that XR there is a good chance I would of found myself a Suzuki DR or the newer DRZ because I had riden these before in years gone by. The DR's are classed as dual sports bikes.
This post looks at the history of the Suzuki Dirt Bike where we shall see the very first dirt bike model they produced right though the ages up until the most recent ones. (Click to go straight to picture timeline)
Also discussing commonly asked questions like, are suzuki dirt bikes any good?, will they stop making dirt bikes, which seems to come up alot in forums, and where are the dirt bikes made?
First a outline of Suzuki's History then below that, the dirt biketimeline with pics in chronological order.
Suzuki's History in Brief
Suzuki made there first motorised bike in 1952, called the 'Power Free' which was a bicycle with a 2 stroke engine mounted to produce the power. However the Suzuki brand started 43 years earlier in 1909, not in the motor industry but the loom manufacturing industry, building looms to weave silk and cotton.
It was Michio Suzuki the founder of the Suzuki Loom Company that later diversified into the autmotive sector following his passion to do so. World War 2 held back the growth of the diversification because the then government deemed cars for civilians a "non-essential commodity"and plans for production had to stop.
In 1954 the name officially changed from the Suzuki Loom Company to the Suzuki Mortor Company Ltd and in 1955 they managed to bring their first car to market. This was the same year they manufactured the Colleda 125cc Motorbike in both a 2 storke and 4 stroke version.
Suzuki opened the US Suzuki Motor Corp, a subsidiary of the main company, in 1963 and in 1965 they release the T20 motorbike which was initially aimed at the American market but became world renowned. It was advertised as the 'fastest 250cc motorcycle in the world".
By this time Suzuki had riders competing in big races like the Isle of Man TT Race and the Grand Prix, they won a couple of titles.
Now into the 1970s and Suzuki reveiled it first dabble in the motorcrosser market with the TM400 in 1971. The progression of motorcrossers moving forward can be seen on the timeline below.
Today everyone recognises the Suzuki brand and they manufacturer a range of products, from cars and motorbikes to out board motors for boats.
In the bike world they have delivered some big hitters like the Hayabusa, the worlds fastest production motorbike with a top speed over 300 km/h. The GS series and DR / DRZ crossers to name a few.
Suzuki Image Timeline
Take a look at the progression of the Suzuki Dirt Bikes from 1971 until now.

Are Suzuki Dirt Bikes Any Good?
One way of trying to establish if a dirtbike is any good is to go by the popularity and reputation of brand. When people ask if Suzuki dirt bikes are any good then answer is of course yes.
Suzuki dirt bikes are some of the best you can buy, they have nearly 50 years experience building dirt bikes and have models like the DR650 which has been in production for since 1990 and still in production now (2020).
They offer quality built bikes at different levels of pricing and aimed at different riding requirements. For example the DR650 is a dual sports bike and is very popular. You could go for a RMZ 250 or 450 which is a MX bike. Both the DR and RMZs are brillaint quality and in my opinion brand new are very well priced.
Some people seem to ask if Suzuki are going to stop making dirt bikes. You see this question alot in forums and I am not sure why.
I personally cant see them stopping anytime in the near future at least, unless everyone knows something I dont. They have some awesome bikes that people are loving and buying.
Where Are Suzuki Dirt Bikes Made?
If you own a Suzuki Dirt Bike then there are various different plants at which your bike could of been manufactured in.
Suzuki manufacture dirt bikes in 23 different countries within 35 plants. Oyabe, Toyama is where the Japanese motorbike plant is based.