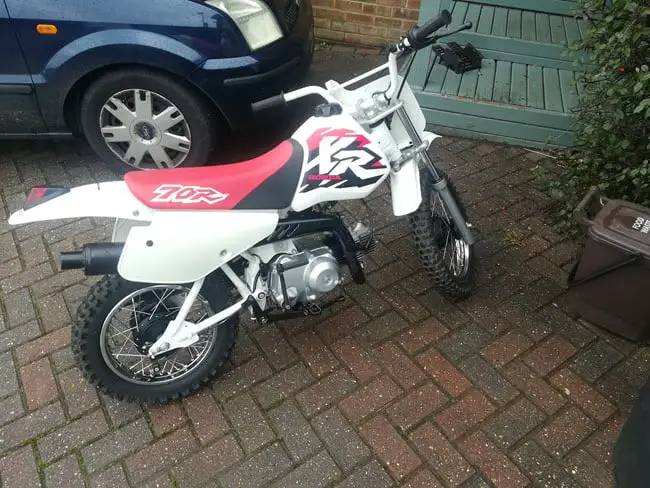 When Did Honda Stop Making The XR – Date Table Included

People often ask when did Honda stop making the XR as well as why they stopped making it. The XR is still a very popular dirt bike around the world and Honda's reputation for producing good, quality engines is known by anyone with the slightest interest in motors.
Honda had stopped making XR's in 2014, although 2016 saw the new XR650L which is still in production today.  As there are many different versions of the XR, production finished in earlier years for other models. A table is included listing details for this.
You can see the latest XR650L on the honda website – https://powersports.honda.com/street/adventure/xr650l
Below you will see the table which lists the XR models with the years of their production.  This information has been researched using service manuals from Haynes and Clymer which I believe are a good source of accuracy.  There are different dates of production for different countries however, and it does seem hard to pinpoint exact dates. The dates below relate to the US and UK markets.
If you have facts about dates that can be included I would love to hear from you, so feel free to drop me a comment at the end of the post.  It would be great to have the most complete resource for this as possible because I know how much trouble I had finding it when I was researching my XR rebuild project.
| | | |
| --- | --- | --- |
| XR Model | First Year  | Last Year |
| Xr 80 | 1979 | 1987 |
| Xr 100 | 1981 | 1987 |
| XR 100 R | 1985 | 2003 |
| XR 125 | 2003 | ? |
| XR 125 L | 2010 | ? |
| XR 185 | 1979 | 1979 |
| XR 200 | 1979 | 1987 |
| XR 250 | 1970 | 1982 |
| XR 250 R | 1986 | 2004 |
| XR 250 L | 1991 | 2007 |
| XR 350 R | 1983 | 1985 |
| XR 400 R | 1996 | 2004 |
| XR 500 | 1979 | 1980 |
| XR 500 R | 1979 | 1984 |
| XR 600 R | 1985 | 2000 |
| XR 650 R | 2000 | 2007 |
| XR 650 L | 1993 | 2014 |
| XR 650L | 2016 | Present |
Most XR's will have either the letter R or L after them.  R signifies it is the enduro version of the bike where the letter L refers to the bike being the road legal version.

The current XR650L is the 

What Does XR Stand For?
XR stands for cross country racer and the XRL stands for cross country racer street legal.  
What Came After The Honda XR Series?
The CRF series was the successor to Honda's XR series and first came to market in 2000.  CRF stands for Competition Racer Fourstroke and is available from a 150cc upto a 500cc.
Like the XR the reputation of the CRF series is second to none and is known as a leader in its class
More about the CRF history and specs can be found on the wikipage here – https://en.wikipedia.org/wiki/Honda_CRF_series 
Finding Info For Your XR Model
Throughout its time in production the XR has constantly evolved as finding out which model you have will determine the spec.
My XR project is a XR250R manufactured in 1991 and locating the correct information for correct specs has been quite time consuming.  There have been a couple of good resources that have helped me out.  
The Haynes manuals I mentioned at the start of this post are a great starting point and I bought mine second-hand on eBay for a few quid.  This workshop manual provides a lot of detail about servicing and maintenance to troubleshooting problems to help diagnose possible issues.
Simply search the Haynes website to locate the manual for your model.
Clymer in another company that publishes workshop manuals and although I do not have one for my bike I am led to believe that they provide more in depth knowledge than the Haynes one.  You can actually buy them direct from the Haynes site also.
You can also try to obtain the service and repair manual that honda provide to industry dealers to provide them with correct specs and info.  I found a copy of mine available on Scribd, which if you don't know is a digital library with books, magazines, audio books, etc. You can get a months free trial so if you find something on there you can sign up for a free trial, download the manual then close the membership.
Another great resource is ThumperTalk – an online forum with an XR section that covers all models.  If you have a question you can't find the answer to, then it is likely you will get some input on the forum.