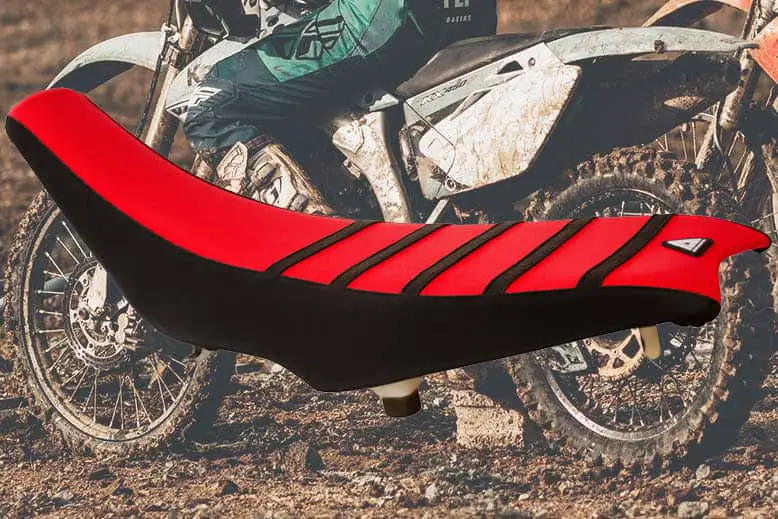 This is a quick guide to assist you in fitting your new dirt bike seat cover. Its simple to do and looks great when you are finished.
At the end you will see what staple guns and staples I recommend as well as some of the different seat covers available. I have also answered some FAQ's
Installing A New Dirt Bike Seat Cover
Take off your seat
Remove Staples
Take off old seat cover
Position new seat cover
Tack on the cover
Make any adjustments and staple
Trim excess material
Refit your seat
1. Take off your seat
Most dirt bikes are very straight foward, just undo any securing bolts and slide the seat off. If you get stuck I do have a pictorial of my Honda XR here – How To Take A Dirt Bike Seat Off
2. Remove the staples
Once your seat is off, flip it over and start removing the staples. This can be done with either a staple remover, or a flat head screw driver and a pair of pliers.
Make sure you get them all out so you are left with a nice clean area for when you come to fixing the new cover on.
3. Take off the old seat cover
The seat cover should now simply come away from the bike seat. I have seen some people use to glue so if this is the case be really careful not to tear up the foam pad. Any factory fitted seat covers will just be staples.
If you do damage the foam, or you are looking to replace it for any reason then this is the time to do it. I have a great post about that if you need it. (Link below.)
Related Post: How To Install And Replace Your Dirt Bike Foam Seat
4. Position the new seat cover
Lay the cover over the seat and line it up best you can. Start at the front, lay it on and rotate the seat to the bback and look down the length to make sure it's on straight. Once you are happy, pop a staple at the front and back only at this stage.
5. Tack on the cover
At this point you have only 2 staples holding the cover in place. Starting at the front work you way evenly down the edges to staple widely down each side.
You should be keeping enough tension on the seat cover to position it and give it a smooth finish, but not to much that it creates unwanted wrinkles.
6. Make adjustments and fully staple
With a few staples down each side go back up to the front and staple it so it is secure, then do the back. Now starting from the front again run down the sides to finish the stapling.
You should be able to make any minor adjustments as you go before you fully staple.
7. Trim any excess material
Using a brand new blade trim off any excess seat cover material that might hinder the replacement of the seat.
8. Replace you seat
Reverse the method in step one and you are ready to ride.
Here is a great short video showing the process
What Staple Gun Should You Use For Putting On Your Bike Cover?
The Arrow PT50 Air Powered Staple Gun is great for fixing your new seat cover in place. Using a pneumatic staple gun will give you a nose shaped end that is great for getting down inbetween the plastic on some of the seat edges. It also provides enough force to punch into te plastic seat, making sure your seat cover is gonna stay put.
Avoid manually operated staple guns, because you wont get the reach or power needed to make sure the staples go in.
If you dont have a compressor for a pneumatic, then you can try an electric stapler, most of which will be nailers that take staples. The Neu Master Staple Gun for example would probably be fine.
What Size Staples Should You Use For A Dirt Bike Seat Cover?
1/4 inch or 1/2 inch staples and sizes inbetween are fine for securing your seat cover, just make sure the ones you buy fit your staple gun.
Which Material Is Best For Bike Seat Cover?
Most modern seat covers are made from a a rubberised material that offers grip and is waterproof. Back in the day they would of been leather, but material technology has evolved massively since then.
How Do You Clean A Dirt Bike Seat Cover?
Most of the time wiping your seat done with a wet cloth is sufficient. At times when it is caked in mud then you may feel tempted to jet was it.
Doing this is fine but I would recommend leaving a bit of distance between the jet and your seat so you resist from forcing water through the cover and into the foam.
A hose pipe and soft bristled brush is another good way cleaning off mud.
Available Seat Covers To Consider.
Cheap Seat Covers:
If you are looking for cheap covers then you may as well head straight over the Amazon or eBay. At around $30 a piece at the time of writing you cant go to far wrong.
The downside to buying this can soemtimes be the fit. Because most of them are generic you may end up taking more time and attention when you come to fitting the seat cover to make sure it looks good.
Quality Seat Covers:
If you have a bit more to spend then head over to Rocky Mountain ATV which i'm sure you will be familiar with, or Factory Effex. You are typically looking at around $40 upwards and you can choose from a decent range.
Once you have selected the look of one you like they will usually ask for your make, model and year of dirt bike to ensure you get one that will fit your bike.
I'll drop link direct to the sites pages below.
Personally I prefer seat covers from places like this over buying a cheapy.
Rocky Mountain Seat Covers Here