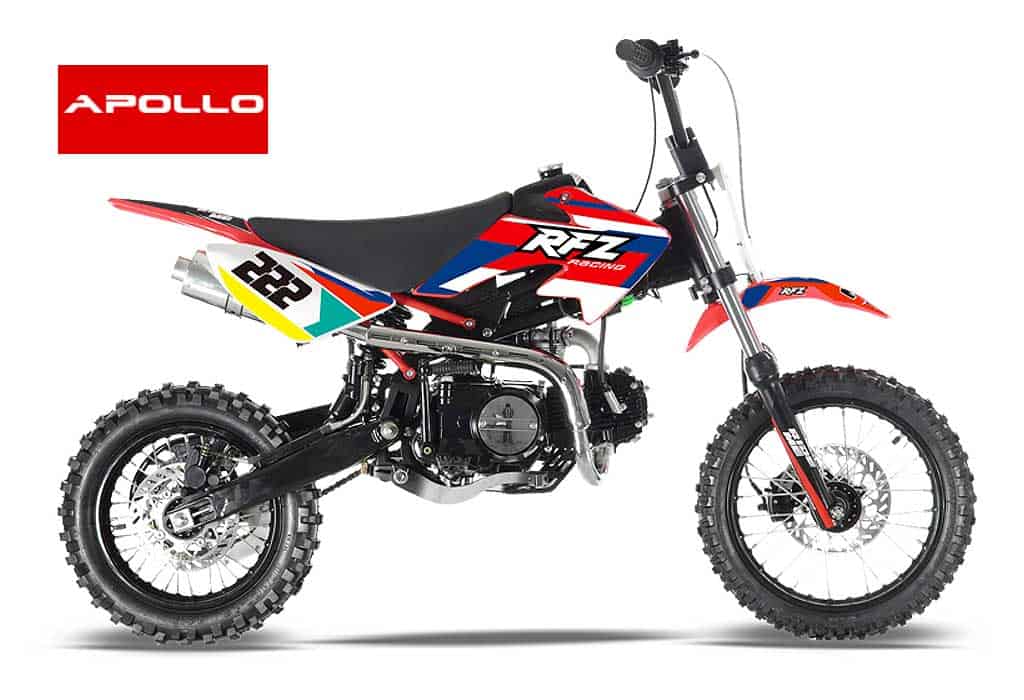 Apollo dirt bikes are a new brand in relation to the big boys that have been around for ages. Brands like Honda, Suzuki and Yamaha are all names people know and trust, but with a new brand, just like Apollo, people tend to have a lot of additional questions before they feel satisfied enough to part with their hard earned cash.
In this post I thought it would be a great idea to explore Apollo, review their dirt bike production and answer some of the most common questions people are asking.
After reading this, who knows, your next dirt bike maybe an Apollo!
What Company Makes Apollo Dirt Bikes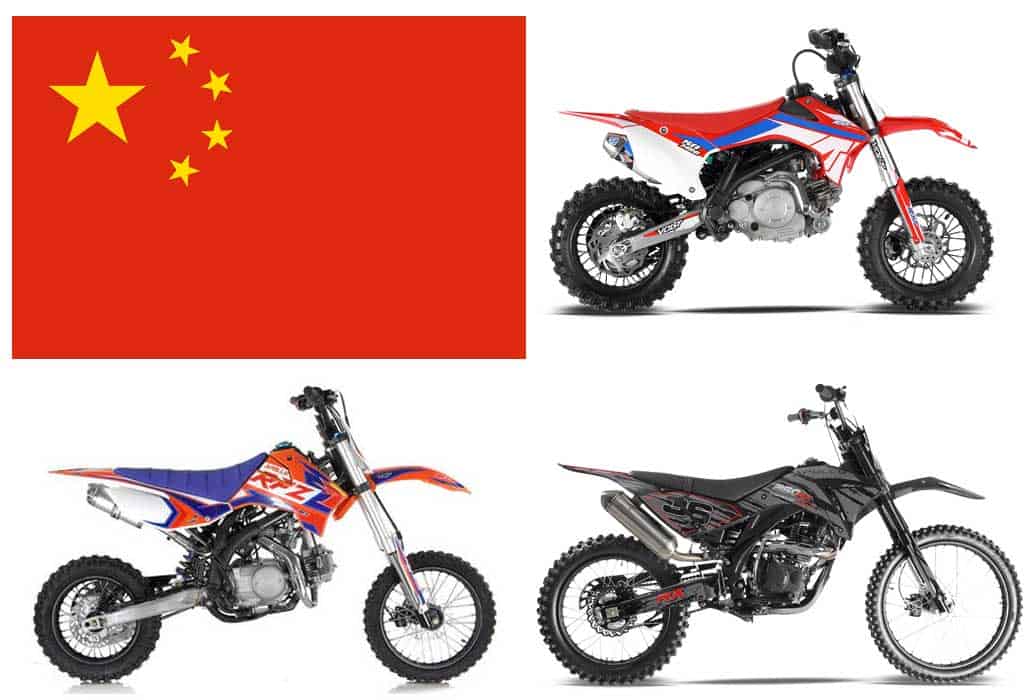 Many believe that Apollo is not a real brand in it's own right, but mearly a name made up by someone who was selling generic 'white label' bikes and putting their own stickered name on them. This however is not the case.
The company that make Apollo dirt bikes is called Zhejiang Apollo Motorcycle Manufacturing Co. LTD. A Chinese company founded in 2003 and located in the province of Zhejiang, China. They design, manufacture and sell motorbikes into 69 countries around the world.
This also answers another question, are Apollo Dirt Bikes Chinese? I think this is frequently asked when researching prior to buying, in a bid to find out the quality and standard of this new unknown brand. Well yes it is Chinese but that doesn't always mean poor quality.
Dirt bikes are just one category of product that the Zhejiang Apollo Motorcycle Manufacturing Co. LTD produce. ATVs and Electric Bicycles are another two areas they are active in and all 3 categories have multipe products within them. Checking out their website (www.apollovehicle.com) you can see no fewer than 40 current products across the different ranges.
Is Apollo A Good Dirt Bike Brand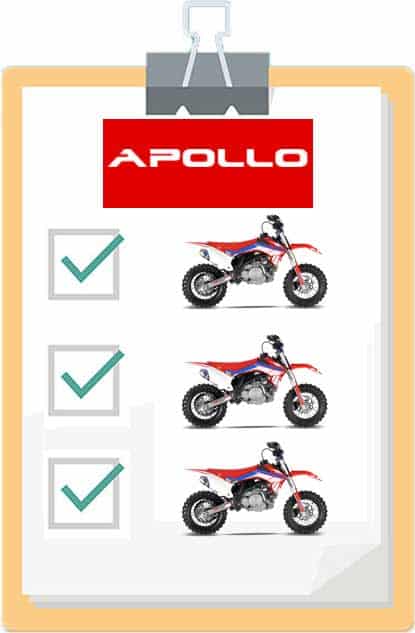 With the fact that Apollo is a Chinese company you get the standard assumption that their products are of poor quality, made from cheap matetrials and will never last. My opinion of Apollo is a little different to that, here is what I think…
Apollo are a good reputable brand that make dirt biking affordable for riders of all abilities. Their popularity is a testament to their products and they are securing their position in the dirt bike market.
Now I don't mean that they are the top runners, the best of the best and a must have for any and all riders. I just think they are cornering a nice little dirt bike niche in a positive way and in particular for a few different kinds of people. For example
Kids who want a bike but will likely only ride it 20 times a year or less
Adults who are late comers to dirt biking and want to give it ago without splashing out on the big names.
People who want a second run around without breaking the bank.
People with budget restraints.
I am sure there are many others that benefit from Apollo bikes but you get my point. In fact it's worth mentioning that their RXF range are their higher level bikes and these are aimed at competing riders. You can check out all the latest models later in the post.
The reason these bikes benefit these specific people is because of the pricing ranges they fall into. ( More on pricing in a moment.) Without a doubt Apollo provide amazing value for the money.
What about quality of the bikes though, do you get the same quality for the lesser price tag?
On my travels I have seen people comment on the finish of some of the products. That is to say the standard of the component assembly may not be consistant from bike to bike with people reporting loose fixings on parts that really shouldn't be loose.
This maybe down to the cheap labour and lower standards that the China government impose, who knows. Or it maybe just people voicing there opinion to the masses because they have a fault with the bike they have bought and want make out this is the standard of all bikes from that company.
Hopefully most people reading these type of reviews would see that the positive reviews outway the negative by a long way, and all manufacturers, big brands included have disgruntled customers at some point. The web just makes it super easy to have a moan.
For me, I have an electric Chinese dirt bike and the easiest solution to ensuring it didn't suffer from loose bolts was simple. Give it a good check over on delivery and have a good maintenance schedule to make sure you are running a safe and solid machine.
Worth mentioning too is that the majority of Apollo bikes that are bought online are delivered in parts and arrive for you to assemble, which makes me feel like saying 'whose fault were the loose nuts anyway!'
It also helps to buy from a reputable place that you can go back to should something go wrong. Buying from certain places like the ones I mention in this article will give you the option of having you Apollo delivered assembled by them. That's one less thing to worry about.
How Much Is An Apollo Dirt Bike
These bikes are possibly the most affordable option if you want a new dirt bike, and you maybe surprised at the 'bang for your buck' you get with them.
Apollo dirt bikes for small kids start at $750, mid sized bikes start at $850 and the top of the range go for $2500. These prices include shipping, the bikes arriving preassembled and with a 1 year warranty.
For the amount of money you are spending you can pick up older, used dirt bikes from bigger named brands, like Honda XRs and Suzuki DRs etc, but condition can vary widely and you may end up with a lemon.
If you are interested in buying a used dirt bike then it's definitly worth checking out my guide which comes with a handy checklist to help you avoid any mishaps. Find that post here.
Why Are Apollo Dirt Bikes So Cheap?
Sometimes we stay clear of products just because we believe they are too cheap and assume therefore they can't possibly be any good. That along with the saying 'if it sounds to good to be true it probably is' , mean that we doubt anything with a price tag to far under the market average. So what about Apollo?
Apollo can afford to sell dirt bikes at a lower price because in China lower material costs, cheap labour, minimal health and saftey compliance standards and enviroment regulations all contribute to keeping down production costs.
Apollo have also built a refined in house manufacturing system which sees them do their own research and development, design, and the manufacturing for their dirt bikes without the need to outsource. This will also keep costs down.
Marketing is aimed more towards beginners and kids so taking advantage of their lower production costs mean they pass on cheaper pricing to the end user. This makes Apollo dirt bikes very attractive to people in these categories for obvious reasons.
One of the reasons I think these are an excellent option is because they are that cheap compared to bigger brands, that you can even afford to replace the bike for a brand new one and still save money.
Where Can I Buy Apollo Dirt Bikes?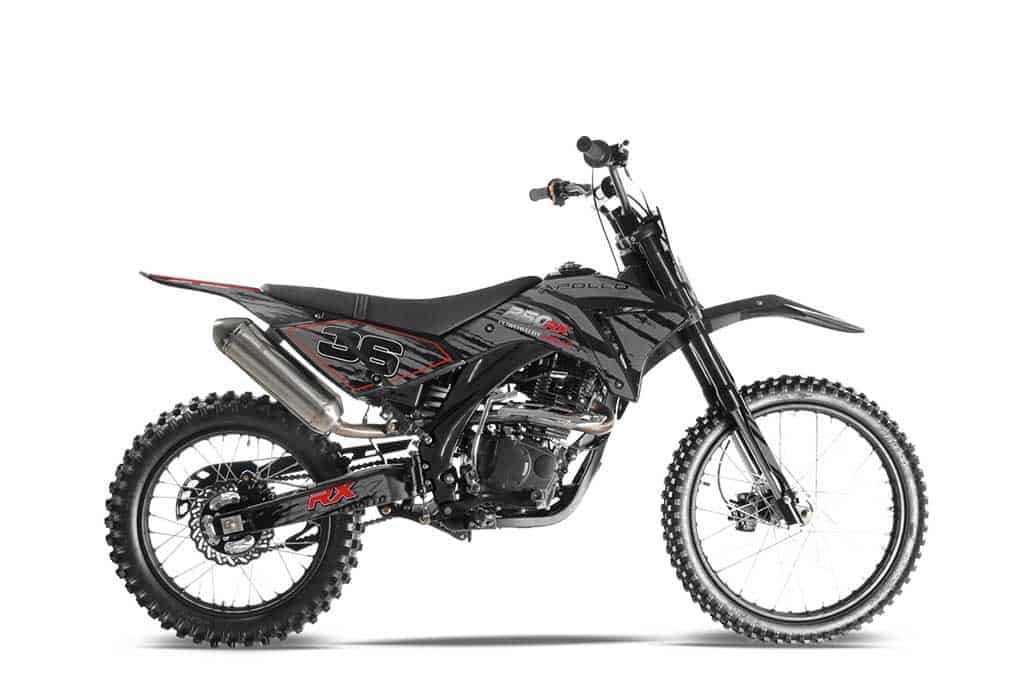 Talking online here, you have a few options but I strongly recommend www.orionpowersports.com/apollo-pit-bikes-dirt-bikes-fully-assembled/ if you live in the US. These guys are great, they assemble the bike for you, and provide a 1 year warranty.
If you live outside the US then Orion Power Sports are still worth contacting because they do ship internationally but depending on your location it may not be the most cost effective option.
Many people buy Apollo Dirt Bikes on Amazon, which can be good. People who love shopping with Amazon may prefer this option, but be aware that the range of Apollo Dirt Bikes offered on Amazon is limited and many don't come pre assembled so thats a job for you when it gets delivered.
The cost difference between having the bike assembled or not is small, and for the minor increase in the price ($50) to get the bike built for you, it is so worth it. Not to mention Orion stock most, if not all, of the Apollo models and the 1 year warranty you get as well. Oh and they have phone tech if you need to call about something.
Apollo Dirt Bike Models – updated 2020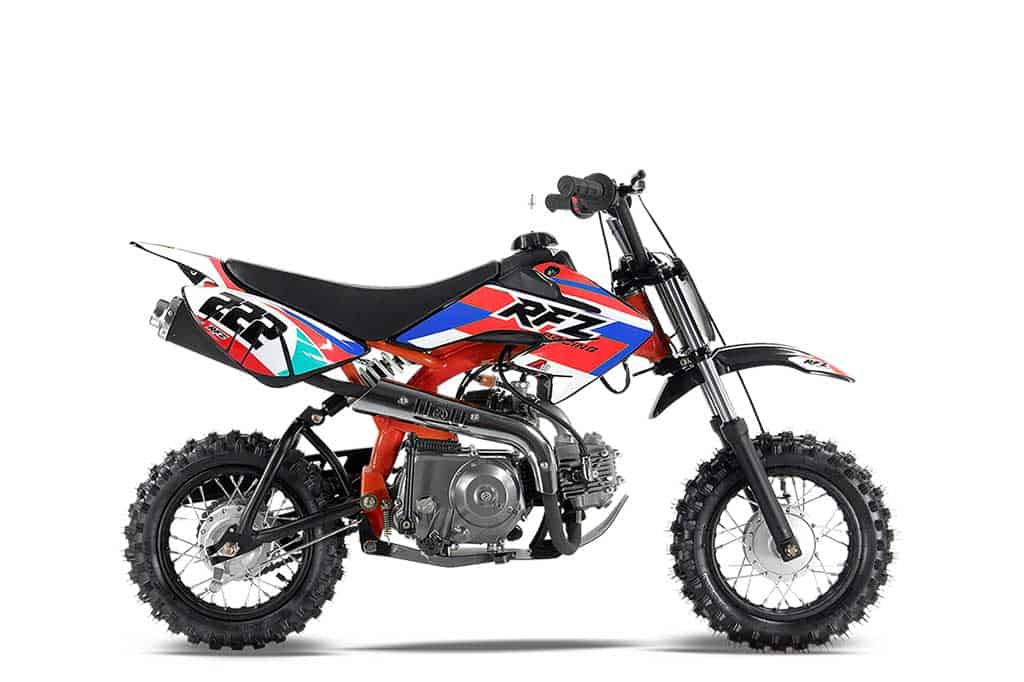 Take a look at the current models Apollo are marketing. I have organised them into a table for ease. Basically they have 2 ranges, the RFZ and RXF.
The RFZ is aimed at beginners and the RXF's are higher level bikes that Apollo claim to be built to ride alongside the big brands like Honda, Kawasaki and KTM and indeed have been seen at competitions.
| | | | | |
| --- | --- | --- | --- | --- |
| Model | Engine Size | Cost * | Transmission | Bike Weight (LBS) |
| Apollo DB-21 | 70cc | $749 | Semi Auto | 105 |
| Apollo DB-25 | 70cc | $769 | Auto | 105 |
| Apollo RFZ DB X-4 | 110cc | $879 | Semi Auto | 137 |
| Apollo DB-007 | 125cc | $959 | Manual | 180 |
| Apollo RFZ DB x-14 | 125cc | $969 | Semi Auto | 180 |
| Apollo RFZ DB X-16 | 125cc | $979 | Auto | 180 |
| Apollo RFZ DB X-15 | 125cc | $989 | Manual | 180 |
| Apollo RFZ DB X-18 | 125cc | $1079 | Manual | 180 |
| Apollo RFZ DB X-19 | 125cc | $1079 | Manual | 180 |
| Apollo RFZ DB Z20 | 125cc | $1139 | Manual | 168 |
| Apollo RFZ DB Z20 MAX | 125cc | $1199 | Manual | 192 |
| Apollo DB-36 RX | 250cc | $1869 | Manual | 247 |
| Apollo DB-36 RX Deluxe | 250cc | $1949 | Manual | 247 |
| Apollo RXF 150 Freeride | 140cc | $1999 | Manual | 187 |
| Apollo RXF 150 Freeride MAX | 140cc | $2199 | Manual | 196 |
| Apollo RXF 200 Freeride MAX | 190cc | $2399 | Manual | 201 |
* Prices for all of these bikes have been sourced from OrionPowerSports.com and include the bike being preassembled. You can deduct $50 from these to the price to assemble the bike yourself.
Bikes with an engine size of 125cc or smaller are classed as pit bikes and the larger engine sizes are classed as dirt bikes. Although the distinction between pit and dirt bikes today is very little, most people judge it by the size in terms of engine size and actual physical size.
What Is The Biggest Apollo Dirt Bike?
There are a few ways of interpreting this commonly asked question. The first is the size of the engine, the next is the size or weight of the bike and then there is the seat height.
Because people reading this may be after different answers from one to the next I have once again created a table to cover all of these points.
Model

Engine Size

Bike Weight (LBS)
Seat Height
(Inches)
Wheel Base
(Inches)
Apollo DB-21
70cc
105
22.5
38
Apollo DB-25
70cc
105
22.5
38
Apollo RFZ DB X-4
110cc
137
27.5
47
Apollo DB-007
125cc
180
32
49.6
Apollo RFZ DB x-14
125cc
180
33
50
Apollo RFZ DB X-16
125cc
180
32
50
Apollo RFZ DB X-15
125cc
180
32
50
Apollo RFZ DB X-18
125cc
180
33
50
Apollo RFZ DB X-19
125cc
180
33
50
Apollo RFZ DB Z20
125cc
168
32.5
49.2
Apollo RFZ DB Z20 MAX
125cc
192
34.5
49.2
Apollo DB-36 RX
250cc
247
36
56.4
Apollo DB-36 RX Deluxe
250cc
247
36
56.4
Apollo RXF 150 Freeride
140cc
187
35
51.2
Apollo RXF 150 Freeride MAX
140cc
196
35.8
51.2
Apollo RXF 200 Freeride MAX
190cc
201
35.8
51.2
It makes sense that the bigger sized engines use a bigger frame to accommodate them and this makes for a bigger bike overall, therefore as a rule of thumb the smaller bikes are at the top of the table and larger bikes at the bottom.
Fastest Apollo Dirt Bike – which one is it?
There are different variables that will effect any motorbikes top speed, such as the riders weight, how well maintained the bike is and the terrain its being riden on. So lets assume all things are equal then the fastest Apollo is the DB-36..
The Apollo DB-36 has a top speed of 70 mph making it the quickest dirt bike in the Apollo range. It is also the bike with the largest engine at 250cc. Models with an engine size of 125cc will achieve approxiamtley 55mph.

What Is The Best Apollo Dirt Bike?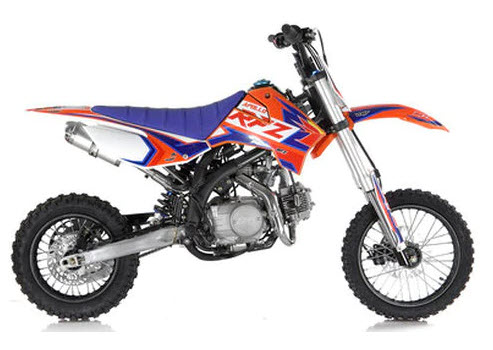 Apollo dirt bikes have a range to suit most riders so pulling one as the best is going to be difficult but I'll give it a shot based on my knowledge and experience.
The automatic Apollo DB-x-16 and its manual counterpart the Apollo DB-X-15 both offer a 125cc engine at a very reasonable cost. This is one of the most popular dirt bikes Apollo has made and is a good beginners bike as well as being fun for more experienced riders.
These bikes are excellent and even if you already own a big brand dirt bike then many people have played on these.
You can get it assembled and shipped for under $1000 and they come in a wide range of colors so that is my pick for the best Apollo Dirt Bike. They sound great too!
Apollo Dirt bike Videos
Below I have selected some videos that I think show a good sample of the Apollo videos and will be interesting to view.
Video 1 – This video shows a ride on a Apollo 125 RFZ and gives you a good idea of the quality and performance of the bike. Long video and you dont need to watch it all. The first 6 mins are the best.
Video 2 – Nice short one of the Apollo DB-36 which is the biggest engine Apollo offer at 250cc.
Video 3 – Ride out on an Apollo 125
Apollo Dirt Bike Parts
Sooner or later you will likely need to buy parts for your Apollo, and this is the case with all brands. Weather it is due to something breaking or maybe you want to upgrade, sourcing parts is all part of the game.
Finding parts for Apollo dirt bikes is not as hard as some people make out. If you read forums and reviews, for some reason people say that getting hold of Apollo parts is totally impossible but that just isn't true.
Maybe those statements were written back in the early 2000's when Apollo were first on the scene and that would make sense because the bikes weren't widely known or used. The knock on effect of this would be fewer parts being available.
At the time of writting this post, spare parts and upgrades can be purchased from a variety of places.
Many times you will find that the place you purchased the bike from will also sell parts for the bike so going back to the same place is probably a good starting point.
EBay is another great place to search and you will also find that some parts can be interchanged with other brands like Honda, according to a couple of forum posts I was reading.
Apollo Dirt Bike Conclusion
This chinese company manufacture and distribute dirt bikes at a very reasonable prices. They are probably the number 1 selling chinese dirt bike and have done a great job at cornering a position in the market.
I personally wouldn't hesitate to buy one of these, the price wont break the bank and as a first time learner bike or a second bike for a run around town, these Apollos are ideal.
I really hope this post has helped you on your researching journey. Be sure to let me know in the comments if you decided to buy an Apollo Dirt Bike and what you thought of it.
Hopefully in the not to distant future I shall be featuring some Apollo bikes on my youtube channel to further help people see what they are like. You can find my channel here, be sure to subscribe.
Until next time….
Thanks for reading