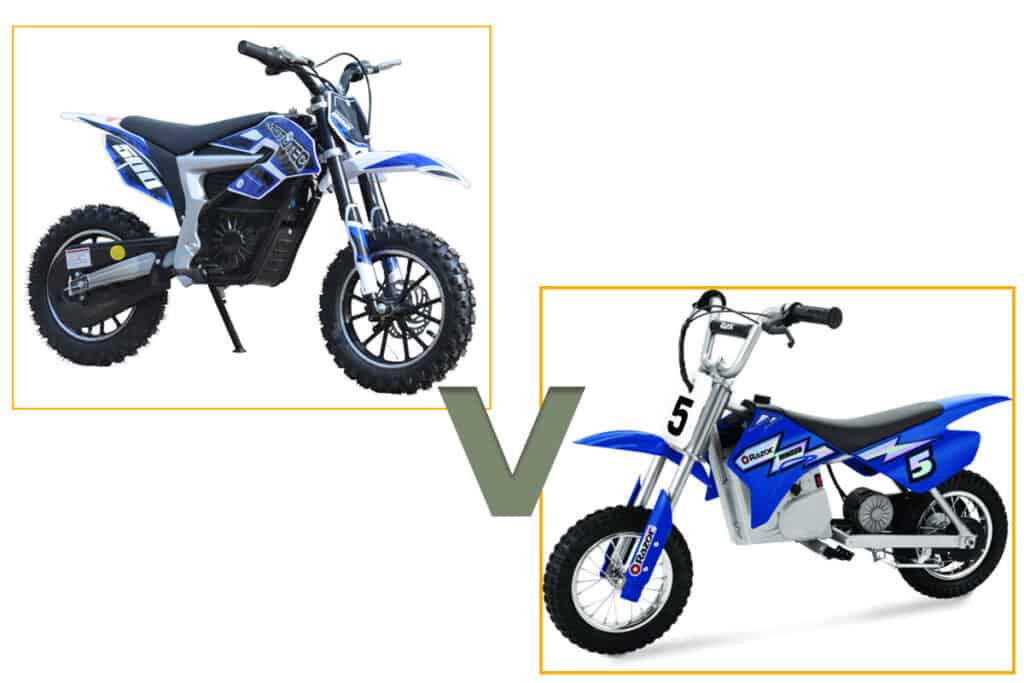 Both Mototec and Razor produce a range of electric dirtbikes aimed at kids, and both brands are very popular, but we wanted to compare them against each other to try and work out the differences between the two in a bid to find out which one is best.
In this post we shall explore what Mototec and Razor have on offer, their pricing points, and details about the quality of the products. We shall also look at the models in the range.
Mototec Electric Dirt Bikes Review
Mototec dirt bikes have been around for some time and are often referred to as being a US company based out of Winconsin, and although they do have a base there, they are actually a Chinese company with bases is China and Japan as well as the US.
Their full trading name is Yongkang MotoTec Technology Co.ltd
They make a range of electric toy products including ATVs, Dirt Bikes, Scooters and Gokarts with 75% of their revenue reportedly being generated in the USA,
On offer in their dirt bike range are just 2 different models. They don't seem to of developed a wide range of choice compared to other products lines like their electric super bikes that have more than 10 different bikes available.
You can choose from either the 24v/500w model or a 36v/500w model. Both dirt bikes are nearly the same spec with a different battery which provides a variation in power output.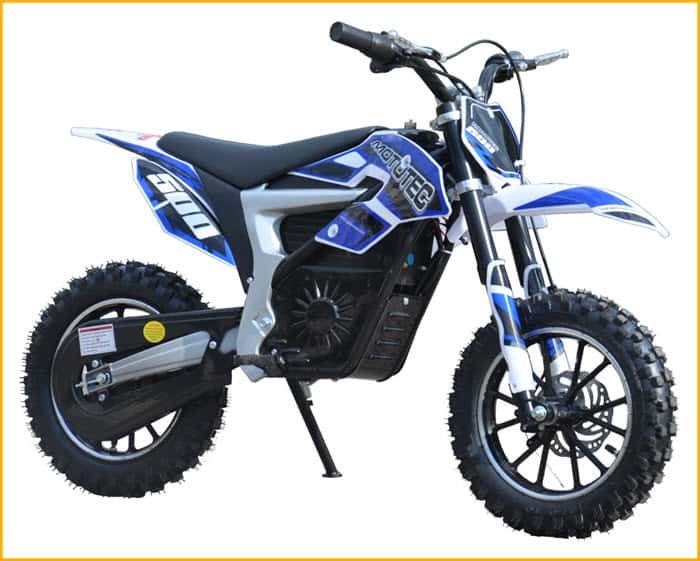 36v Mototec Dirtbike priced at $489.00 – Available in the blue like the pic above and also green.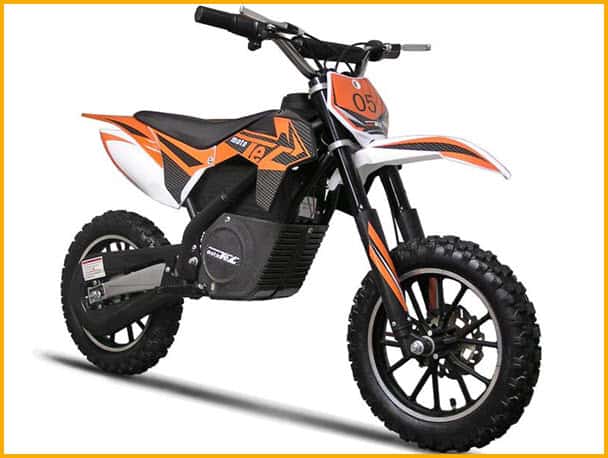 24v Mototec Dirtbike priced at $388.00 – available in the orange in the pic and also a Gazella which is like a sandy color.
One thing I love about these bikes is their look compared to the Razor dirtbikes. They just look the part.
Price wise, I think they are very well pitched being both affordable and reasonable. I actually have them featured in another post writing about the Best Electric Dirt Bikes Under $1000 and the Razors are also featured for their price points.
The easiest place to purchase these are usually Amazon and eBay or sometimes you can pick them up in Walmart.
You can check the latest Amazon prices here.
Mototec Dirt Bike – Breakdown
The smaller 24v Mototec is known as the MT Dirt 500 it is aimed at younger / smaller children aged 8 and over. This bike is a great intro into the dirt biking world as it boths looks the part and rides well. The comparable Razor model would be the MX350
The larger of the 2 models, the 36v, is aimed at children around 12-13 years old upwards.
As this is a post comparing mototec to razor I wont be reviewing every details of the models but an overall look.
On the Mototec bikes everything is just about the same, it's just the battery and size of the bikes that differs.
Here is what you get:
Rear suspension
Front suspension
3 x Speed Settings, operated via a key by the parent
Battery charge display
Key ignition
Motor kill switch
Disc Brakes front and back
Steel Frame
The suspension offered on these bikes is great and something that you don't get on the Razor on the smaller models in their range, a huge plus point for Mototec there.
You get a key ignition which clicks round to turn the battery on. The battery charge has a display to show how much charge remains to the nearest 25%. This replicates a fuel gauge which is a nice touch.
Under the right handlebar grip you get a kill switch which can be operated by the thumb of the rider and simply cuts the power when pressed in.
On the motor just above the position of the left foot when the rider sits on the bike is a key operated speed setting. Here the parent can set the speed, choosing between 3 options, Low, Medium and High. This allows progression for the rider as they gain confidence.
The disc brakes are another great touch on the front and back wheels, although worth noting that many people call them hydraulic disc brakes which they are not. They are cable operated, and although they are discs, hydraulic disc brakes would offer a much greater performance.
Mototec manufacture their bikes on a steel frame, as do Razor and is what you would expect for the low price of the bikes. That does mean though they carry abit of weight.
Once the speed is set, simply turn the ignition then twist and go using the throttle on the right side of the handle bar.
I love this dirt bike review if the MT-Dirt-500 by a kid. Kids have no reason to lie so I feel like it's good honest review.
Razor Electric Dirt Bikes Review
I think it is fair to say that Razor bikes are probably more popular then Mototec but I put that down in part to the bigger range they have, although not massive they do still have more on offer.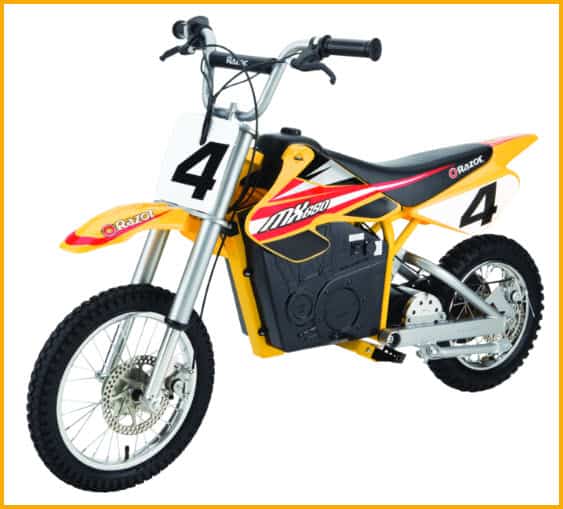 Razor is a brand that went huge when they released their version of the classic toy, the 2 wheeled manual scooter back in 2000. In fact my son has one in the garage as I write and I see plenty of kids at the park with them so they are still very popular today some 20 years on.
Like Mototec they too make other kids toys including hover boards, electric scooters and dirt bikes. This all came after their scooter success.
In my opinion Razors electric dirt bikes look alot more childish in design compared to the Mototec style.
What You Get With A Razor Dirt Bike:
Front suspension on bigger models
Rear suspension on bigger models
Rear Brake
Front brake on bigger models
Power indicator on bigger models
Steel Frame
Cabled disc brakes
Straight away you can see that Razor save more features for the larger bikes where as you get them on the Mototec as standard and in some cases the Mototec equivalent is arguably better.
So on the MX350 which is the second smallest Razor, you only get a back brake and no suspension on either the front or the back, which is the same with the MX125.
There is a power indicator on the larger models as well as a front brake, and front and back suspension which brings the spec of the bike in line with Mototecs offerings.
All bikes are built on a steel frame so carry some weight and instead of the key ignition you have an on/off button located down by the riders left foot.
Razors range of dirt bikes are:
Age
Ride Time
Price
Top Speed
MX125
7+ yrs
Upto 40 mins
$209.99
8 mph
MX 350
SX350
13+ yrs
Upto 30 mins
$329.99
14 mph
MX 500
SX 500
14+ yrs
Upto 40 mins
$539.99
15 mph
MX 650
15+ yrs
Upto 60 mins
$579.99
17 mph
Razor MX 650 Dirt Bike Review
Whats Best? Razor or Mototec?
Personally I lean towards the Mototec because I feel they offer a better all round product, taking into account the looks and features.
Should Razor bring the smaller electric dirt bikes upto spec with the bigger ones then I think Mototec and Razor are pretty level pegging.