This is two of the biggest names in dirt bikes going head to head to find out which one is best. The Honda CRF-50 vs Yamaha PW-50 dominating this article as we dig into the differences including price, performance, dimensions and maintenance.
Contents:
If you are running short on time, here is a glimpse of what both bikes have to offer. If you have time to stick around then we will un-pick these dirt bikes in more detail.
Quick Comparison Overview
Honda CRF50
Yamaha PW50
Price New
$1699
$1699
Engine
49cc / 4 Stroke
49cc / 2 Stroke
Transmission
3 Speed Automatic Clutch
Fully Automatic
Seat Height
21.6 inches / 548mm
18.7 inches / 475mm
Max Rider Weight
40 kg / 88 lbs
25 kg / 55 lbs
Top Speed
34 mph
28 mph
Curb Weight
50.34 kg / 111 lbs
41 kg / 90 lbs
Safety Features
Adjustable Throttle Limiter
Exhaust Heat Sheild
Adjustable Throttle Limiter
Maintenance Level
Low / Medium
Low
CRF50F vs PW50 – Overview
Let's have a look a bit deeper into the true comparisons of the Honda CRF50 and Yamaha's PW50. I have broken it down into categories and to keep it uniformed I will talk about the CRF50 followed by the PW50, but this is a reflection on the outcome to finding out which one is the best.
Lets Go!
Engine
A look at what these 50cc dirt bikes bring to the table in terms of power and engine specs.
| | | |
| --- | --- | --- |
| | Honda CRF50 | Yamaha PW50 |
| Engine Type | 50cc, Air cooled, Single Cylinder | 50cc, Air Cooled, Single Cylinder |
| 2 or 4 Stroke | 4 Stroke | 2 Stroke |
| Drive | Chain | Shaft |
CRF50F vs PW50 – Engine Specs
What does all that mean and what should we be taking away from it.
Starting at the top you can see that both bikes are 50cc engines. No great surprise there as the names both have '50' in them. The term cc refers to the displacement measurement of the engine which is measured in Cubic Centimeters. The greater the cc number the more fuel they burn and more power is produced. Both Honda and Yamaha are equal in this respect.
They are both air cooled, which is the more efficent option to water cooled systems.
Single cylinder means they have one cylinder with one piston. Such engines are common in items like lawn mowers, go-karts, cultivators and strimmers.
2 stroke v's 4 stroke
The first difference we see between the CRF50 and PW50 is the Honda is a 4 stroke and the PeeWee is a 2 stroke. So what is the difference?
Well without boring the pants off you, a 2 stroke takes one complete cycle (2 strokes) to complete the combustion process, where as a 4 stroke takes 2. The process of what is going on inside is a bit different but we have no need to delve any deeper here.
A 4 stroke delivers a steady, predictable power with more torque and greater low end power, whilst a 2 stroke has more on the top end.
To be honest with a kids 50cc dirt bike, the little people riding them will not likely notice a benefit of having one over the other, unless you are looking to get into racing, where a 2 stroke may be suited better.
Drive Type
The honda has a chain drive, which is what you would guess it is. The rear wheel is driven via a chain running over sprockets from the engine to the rear wheel.
The Yamaha is a shaft drive. This means the power from the engine is transferred by a shaft that connects to the back wheel. There is less maintenance involved with this type of setup.
Suspension & Brakes
| | | |
| --- | --- | --- |
| | Honda CRF50 | Yamaha PW50 |
| Front Suspension | Inverted Telescopic Fork with 3.8 inches of travel | 26mm Telescopic Fork with 2.4 inches of travel |
| Rear Suspension | Single Shock with 2.8 inches of travel | Unit SwingArm with 2 inches of travel |
| Front Brake | Drum | Drum |
| Rear Brake | Drum | Drum |
Honda CRF50 V Yamaha PW50 – Suspension and Brakes
The Honda offers higher rated suspension. The bike is all round bigger so having more travel is expected but this is also because you get a bit more travel with inverted folks.
You can't really say one type of folk suspension is better than the other when looking at inverted or not. You would need to assess the internal springs and the dampening being offered to establish that.
Both bikes have drum brakes not discs, which is common on most 50cc dirt bikes.
Dimensions & Weight
| | | |
| --- | --- | --- |
| | Honda CRF50 | Yamaha PW50 |
| Seat Height | 21.6 inches / 548mm | 18.7 inches / 475mm |
| Curb Weight | 111 lbs / 50.34kg | 90 lbs / 40.8kg |
| Max Rider Weight | 88 lbs / 40kg | 55.11 lbs / 25kg |
| Fuel Tank Capacity | 0.7 Gal / 2.65 ltrs | 0.5 Gal / 2.27 ltrs |
Honda CRF50 V Yamaha PW50 – Bike Dimensions
The Yamaha is the smallest kids 50cc dirt bike on the market with its super low seat height, making it ideal for the very young kids.
The knock on effect is everything else is that bit smaller which contributes to an overall lighter bike. Again, it makes it more managable for the smallest of riders but still viable for older kids too.
The Honda is just a little higher on the seat height and is ideal for kids aged 5 – 8 yrs old. It also has a marginally bigger fuel tank, but nothing to shout about.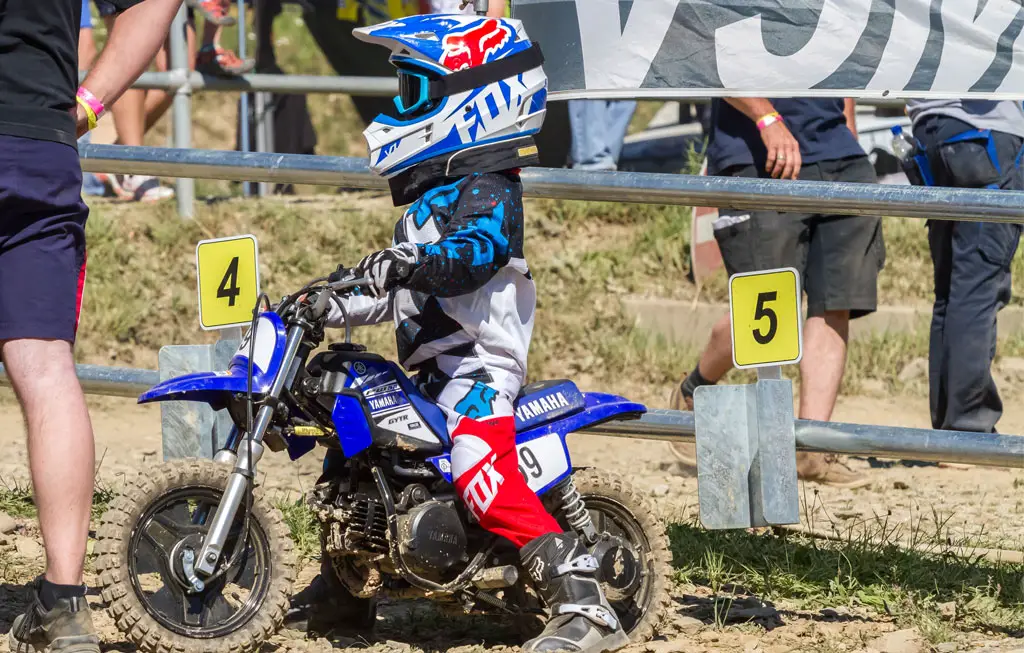 Features
Both of these bikes have a speed limiter on the throttle which is common on 50cc dirt bikes. It's a screw which enables the parent to restrict the rotation of the throttle so the child cannot max it out, in turn slowing it down.
Warranty Info
If you are buying one of these bikes from new then you can expect a warranty, so what do you get.
Honda CRF50F Factory Warranty
The factory warranty is a 6 month limited warranty that is transferable. The overiding categories of what this covers are as follows: Fuel System, Electrical, Cooling System, Engine, Brakes, Drive System and Chassis.
What isn't covered is the following:
Tires, batteries, audio equipment, accessories and expendable maintenance items, such as spark plugs, belts, filters and lubricants.
Honda offer an extended package which is available with the HondaCare Protection Plan®. This is simply extending the warranty that you already have, so it covers the same things. You can extened the warranty by upto a max of 4.5 years so you could achieve a maximum 5 year warranty.
Is the Honda exteneded warranty worth it? That is really down to the individual. Personally i'd be happy with the standard 6 months, but it will also depends on how confident you are around bikes.
To see the complete breakdown of what is covered and full terms here is the link – Honda CRF50F Warranty
Yamaha PW50 Warranty
The factory warranty from Yamaha is a 90 day limited warranty.
It has been really difficult to get information on what you are covered for and what isn't covered, so this is something you will have ask the dealer. I wouldn't want to make any false claims.
Yamaha have a programme called the YES plan which offers an extended warranty across many of its products and it includes dirt bikes. – Yamaha Y.E.S Plan
Maintenance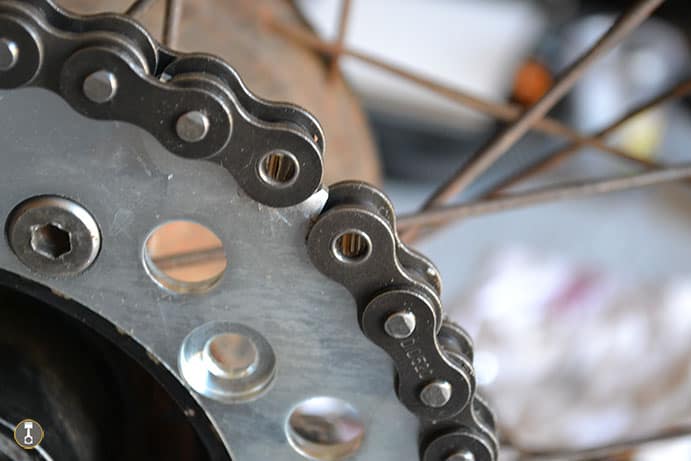 The Yamaha PW50 is definitley lower maintenance compared to the CFR50F. The drive shaft is practically nothing to maintain compared to the chain drive which will need to be kept clean and lubed, and maybe replaced should it ever snap. Nothing taxing here.
The Honda is good if you want your kids to experience a level of maintenance, albiet a low one. A great place for them to start if you think they will be around bikes for years to come.
That said you shouldn't rule it out if you are scared of the maintenance side of things because it's really not difficult.
The 4 stroke Honda will want regular oil changes at the set engine hours or days due, to maximise the life of the engine and keep the wear to a minimum. This is important with any bike, but with 4 strokes there are many more moving parts and the oil will thin and get used up alot more quicker than a 2 stroke.
Honda are known for their engines going on for years if this is done. I can attest to that with my XR250, XLR200 and XR80.
The general consensus is , (in theory) a 4 stroke would out last a 2 stroke of the same engine size if they were riden in the same manor for their lifespan. For the type of riding and time spent riding for beginners this isn't something to worry about.
CRF50 vs PW50 Round Up
Let us now summarize everything we have spoken of to see whats best when looking at the CRF50 v's PW50.
Honda CRF50F Summary: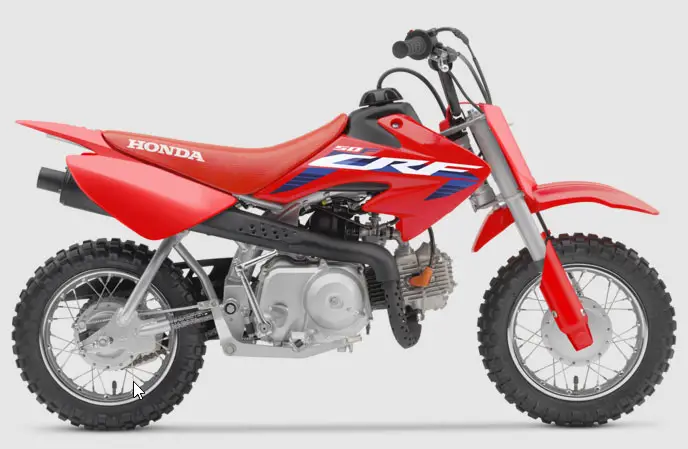 The Honda is a bigger bike, in terms of the seat height. It offers a semi auto setup so riders can experience gears for the first time. Being a 4 stroke and the fact it's bigger, contributes to it being heavier than the PW50, but that isn't necessarily a draw back.
I would choose this bike if my child could ride a push bike confidently, is not at the very youngest age of riders and is generally keen to get going.
The price of the Honda is the same as the PW50 before any extras are added so cost isnt going to be a factor here.
Parts are readily available for all Honda dirt bikes and you wont have an issue finding a mechanic who knows the inner workings of one of these should you come against a problem and you are out of warranty.
Reselling the bike will not be an issue, Hondas are well known and well loved, and the second hand market is always good should you later decide to upgrade to a bigger bike as your child progresses.
Yamaha PW50 Summary: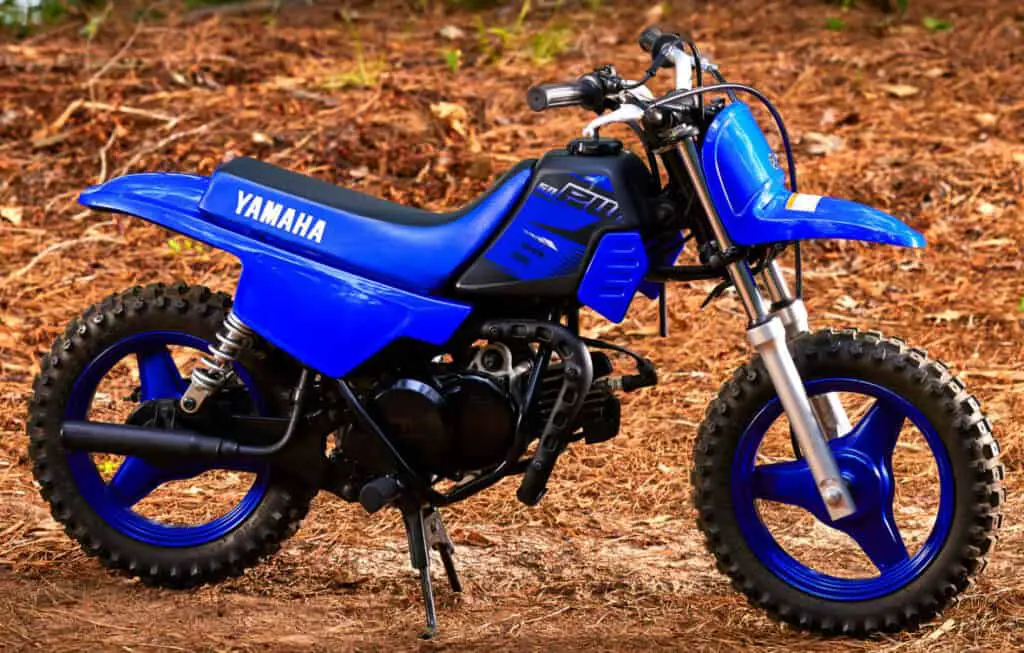 The PW50, also known as a PeeWee is maybe the most common 50cc kids dirt bike out there, mainly because it's been around for so long. (40+ yrs)
It has the smallest seat height on the market at 18.7 inches and in turn is among the lightest.
Yamaha have made a bike that is very easy to maintain and easy to operate for the youngest of riders.
If you have a 3-4yr old or maybe a 5 yr old that is just starting out and doesnt have great balance on a push bike, then this is probably the bike for you.
Parts for Yamaha dirt bikes are also easy to come by, and you will never have any problems reselling a PW50.
Related Articles:
Final Thoughts
I dont think we can possible select an out right winner between the CRF50F and PW50, it comes down to the small differences between them as to which way you might lean if you are considering buying one from new.
Both solid 50cc dirt bikes that kids are going to get alot of enjoyment from and they will both last a life time if they are well looked maintained.
Published: Jan 29, 2023 – Last updated: Jan 29, 2023