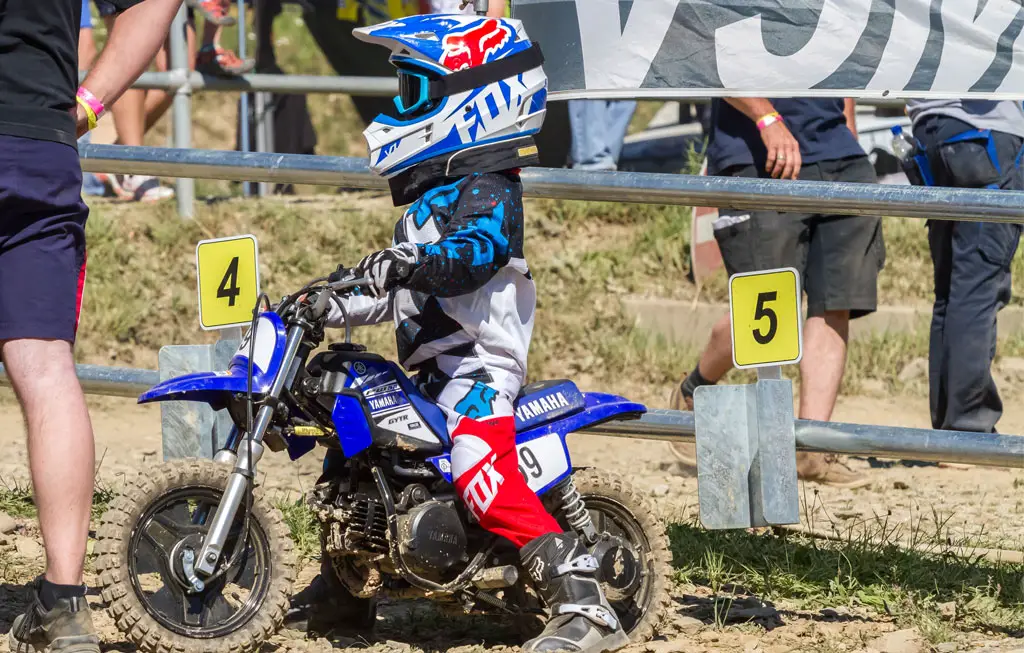 The Best 50cc Kids Dirt Bike 2023: Results
Joint overall winner: Yamaha TT50 & Honda CRF50
Best choice for smaller kids and beginners: Yamaha PW50
Best value: Honda CRF50F
Keep reading to find out how we chose what the best 50cc dirt bike is for kids in 2023. We look at the top manufacturers, as well as other emerging brands, to see how things stack up and what you can get for your money.
The main focus points of our analysis was price, spec, performance, safety and maintenance, ultimatley trying to find the best valued 50cc dirt bike for your nipper.
Who Are Making Kids Dirt Bikes – companies to consider
The oldest and arguably the bigegst names in dirt bike manufacturing have been around for decades, and most people know their names if nothing else. Known as the Big 4 from Japan these are:
Kawasaki
Yamaha
Suzuki
Honda
In addtion to these guys, you also have newer but still very well established and known brands:
KTM – Austrian company
Cobra – US Company
Gas Gas – Spanish Company
With the massive improvement in electric dirt bikes we are also seeing new brands coming to market, some offering gas and electric and some just electric:
Apollo – Chinese company
Razor – Chinese company
The big brands have also developed and manufactured electric dirt bikes, for example Honda have just worked with another company called Greenger Powersports, who designed and manufactured the electric version of a CRF. The final version setup was done with Honda and is described as an official licensed product, and was released in March 2022.
We didn't vote for any electric dirt bikes in our final review for a kids 50cc for a couple of reasons. Firstly, companies like Apollo and Razor produce electric dirt bikes for kids, but they just aren't a patch on the gas models in our table below. There is definitley a market for them, but it isn't this one.
Secondly, electric dirt bikes produced from the big boys it is still early days and nothing standsout to compare to gas. Kawasaki have produced an electric balance bike for kids but you would class this as a bike not a dirt bike.
We will touch abit more on electric at the end of this article.
50cc Kids Dirt Bike – Manufacturers and Models
The table below shows you our short list of manufacturers and models that we looked at.
| Dirt Bike Model | Manufacturer | Price USD |
| --- | --- | --- |
| PW50 | Yamaha | $1,699 |
| TTR50 | Yamaha | $1,749 |
| CRF50F | Honda | $1,699 |
| DR-Z50 | Suzuki | $2,499 |
| 50-SX Mini | KTM | $4,199 |
| MC-50 | Gas Gas | $5,099 |
50cc Kids Dirt Bike Options
The Best 50cc Kids Dirt Bikes: Analysis
From our short list above we will have a look at each dirt bike in more detail to give you the breakdown and ability to compare one against the other.
Yamaha PW50

– Best 50cc for Small kids and beginners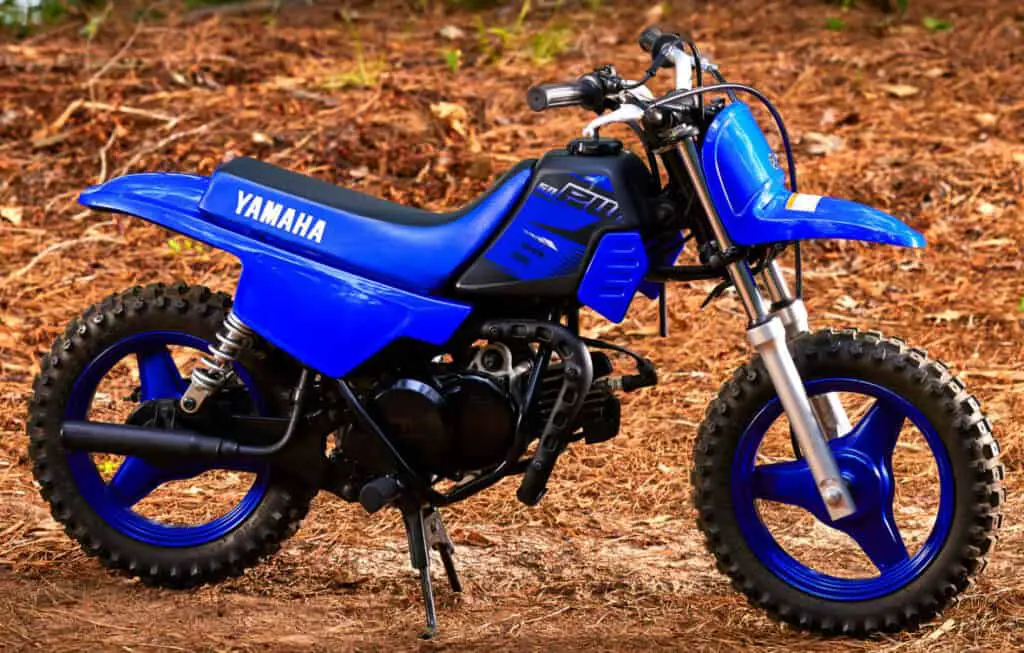 This little bike is arguably the best know 50cc kids bike on the market. It has been in production for no less than 40 years and many adult riders would of started their journey on one of these. That includes pro riders, like Aussie Chad Reed, who is Australias most successful motocross rider, and has been crowned champion many times.
The Facts:
New Price
from $1,699
Engine Type
49cc / 2 stroke
Transmission
Automatic
Seat Height
18.7 inches / 475mm
Wet Weight
41 kg / 90 lbs
Max Rider Weight
25 kg / 55 lbs
Safety Features
Exhaust Heat Sheild
Throttle speed limiter
Top Speed
28 mph
Maintenance Level
Easy
PW50 Summary: Affordable, Safe and Low Maintenance
The pw50 has the lowest seat height on the market which makes it an ideal options for very small children, usually around 3-5 years old.
Older kids can also ride the PW50. They will easily still be within the bikes weight and height limits but take into account that this is fully automatic and both the front and back brakes are operated by levers mounted on the handle bars just like a push bike.
For kids aroun 5-8 yrs, having something like the TTR50 may work better so they get the experience of gears and the foot brake… just a thought.
This little 2 stroke is super easy to maintain, with 3 spoke wheels and auto transmission helping with this.
The throttle limiter is a huge plus for many parents. Easy to operate with just one accessible screw, the parent can simply increase the speed as the child gains confidence and experience.
If you want a more indepth look at the pw50 then do check out my article linked below:
Article: Yamaha PW50 – Ultimate Knowledge Guide
Yamaha TTR50

– Joint Overall Winner for best 50cc for kids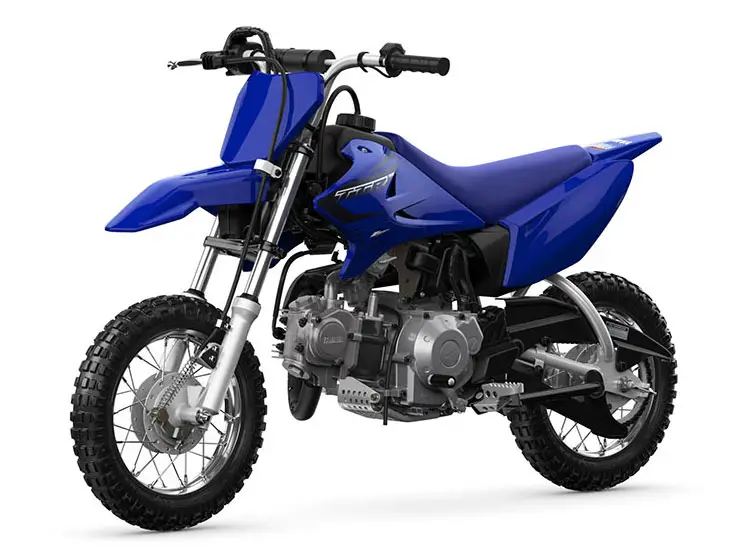 This is like the bigger brother to the PW50 and is brilliant for those kids who want to be a bit more grown up. The seat height means it is great for kids who are taller with the ideal age range being 5-7 yrs of age.
The Facts:
| | |
| --- | --- |
| New Price | from $1,749 |
| Engine Type | 49cc / 4 stroke |
| Transmission | 3 speed, Automatic Clutch |
| Seat Height | 21.9 inches / 556 mm |
| Wet Weight | 58 kg / 128 lbs |
| Max Rider Weight | 40 kg / 88 lbs |
| Safety Features | Throttle speed limiter |
| Top Speed | 32 mph |
| Maintenance Level | Easy / Medium |
TTR50 Summary: Excellent for 5 yrs+, reasonable price, great transition bike
The styling is made to reflect those of the bigger bikes, and gears are being introduced to the rider with this model as well as offering a greater rider weight and seat height which is good for taller kids.
The automatic clutch makes this a great stepping stone before getting a fully manual operated dirt bike, so kids who are learning to ride at the age of 5yrs + would benefit from the TTR50.
Unlike the PW50, there is a little more maintenance involved which is great for kids who want to learn stuff off track as well.
It also benefits from an electric starter.
Honda CRF50-F

– Best Value & Joint Overall Winner for best 50cc for kids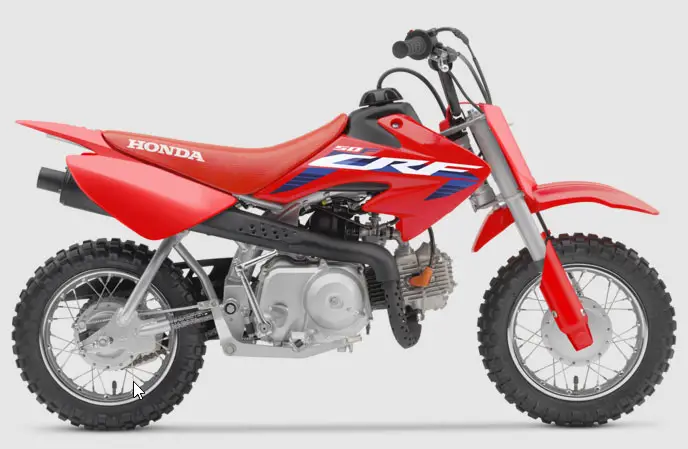 If there is one thing Honda are known for, it's how reliable their engines are. I personally currently own 3 Honda dirt bikes (xr250, xr80 and xlr200) and I can attest to that. They are all over 20 years of age and the XR250 is over 30 years old, thats the one in the project section of this website. (More on that here Honda XR 250 Project)
The value the Honda represents is second to none, hence it being the winner for the best value when hunting for a 50cc kids dirt bike. It is cheaper than other leading 50cc bikes whilst offering reliability and great features.
The Facts:
| | |
| --- | --- |
| New Price | from $1,699 |
| Engine Type | 49cc / 4 stroke |
| Transmission | 3 speed, Automatic Clutch |
| Seat Height | 21.6 inches / 548 mm |
| Wet Weight | 50.34 kg / 111 lbs |
| Max Rider Weight | 40 kg / 88 lbs |
| Safety Features | Adjustable Throttle Limiter |
| Top Speed | 34 mph |
| Maintenance Level | Easy / Medium |
CRF50-F Summary: Excellent for 5 yrs+, known for reliability, replicates the look of the bigger models
As joint winner, the CRF50-F has similarities to the TTR50 from Yamaha. It too has is a 4 stroke with 3 gears and an auto clutch, so why would you buy this over the TTR? Simple, it's great value for money when you look at the overall offering
The Honda is a great bike for kids that are quick learners or have riden a dirt bike before but are slightly shorter as the seat height is a little lower than the TTR50. The price tag is also coming in just under the Yamaha by $50 and it's worth mentioning the bikes weight is also 8kg lighter!
So for kids that perhaps aren't quite as strong, and have a generally smaller physic, the CRF50-F is a great solution. Bigger built kids would find the lighter weight easier to handle.
You get to choose from 2 stock colors – Honda Red or White.
Suzuki DR-Z50
Suzuki are well established machines that have made this dirt bike for kids under 7 yrs old. Suzuki is known worldwide and makes more than just dirt bikes.
This 50cc model has been about since 2008, so relatively new, but this isn't Suzuki's first 50cc dirt bike for kids, they have had previous models dating back to 1989 so they have experience in the market.
The Facts:
| | |
| --- | --- |
| New Price | from $2,499 |
| Engine Type | 49cc / 4 stroke |
| Transmission | 3 speed, Automatic Clutch |
| Seat Height | 22 inches / 560 mm |
| Wet Weight | 54 kg / 119 lbs |
| Max Rider Weight | 40 kg / 88 lbs |
| Safety Features | Adjustable Throttle Limiter |
| Top Speed | ? mph |
| Maintenance Level | Easy / Medium |
DR-Z50 Summary: Higher price tag, a contender if you are a Suzuki fan.
Priced on the higher side when compared to others in our line up for kids 50cc dirt bikes.
Offering both kick start and electric options, the Suzuki a seat height of 22 inches, the seat is also positioned to slope foward for a comfy riding position.
The throttle limiter is a nice feature to allow parents to control there kids speed to allow development at their own pace.
I love the color of these Suzuki dirt bikes, the trade mark yellow shouts excitement to any kid.
Unless you are a devoted Suzuki fan I don't see why you would choose this bike over the Honda CRF-50F or the Yamaha TTR50.
KTM 50-SX Mini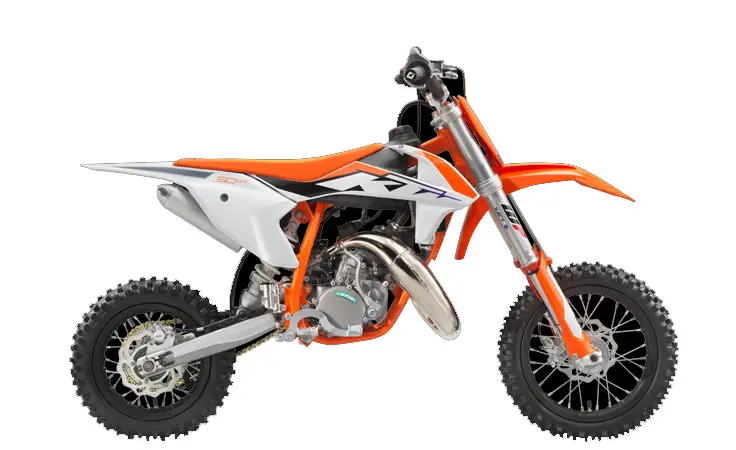 KTM have been manufacturing dirt bikes for a lot less time than the other well established brands we have been looking at so far.
This Austrian company have a great name in the market and are now one of the leading brands for off road motorbikes in the world.
The Facts:
| | |
| --- | --- |
| New Price | from $4,199 |
| Engine Type | 49cc / 2 stroke |
| Transmission | Automatic |
| Seat Height | 26.1 inches / 665mm |
| Wet Weight | 42 kg / 92 lbs |
| Max Rider Weight | 45 kg / 99.2 lbs |
| Safety Features | Upgrade to reduction kit to reduce speed |
| Top Speed | ? mph |
| Maintenance Level | Medium |
50-SX Summary: Designed to be raced, excellent for serious starters, higher price.
KTM are known for their motocross bikes and this includes the KTM 50-SX Mini. They have designed this bike to be raced is the 50cc class. It's a shrunk down version of the 50-SX and performs very well.
With that in mind, if you are serious about getting your kids into motocross then this is the bike for you.
It is nearly the most expensive bike in our line-up but totally worth it. You are paying for race grade stuff, like disc brakes, and amazing suspension. It is also one of the heaviest by a few kilos but this wont be an issue for kids when racing as they would of built strength.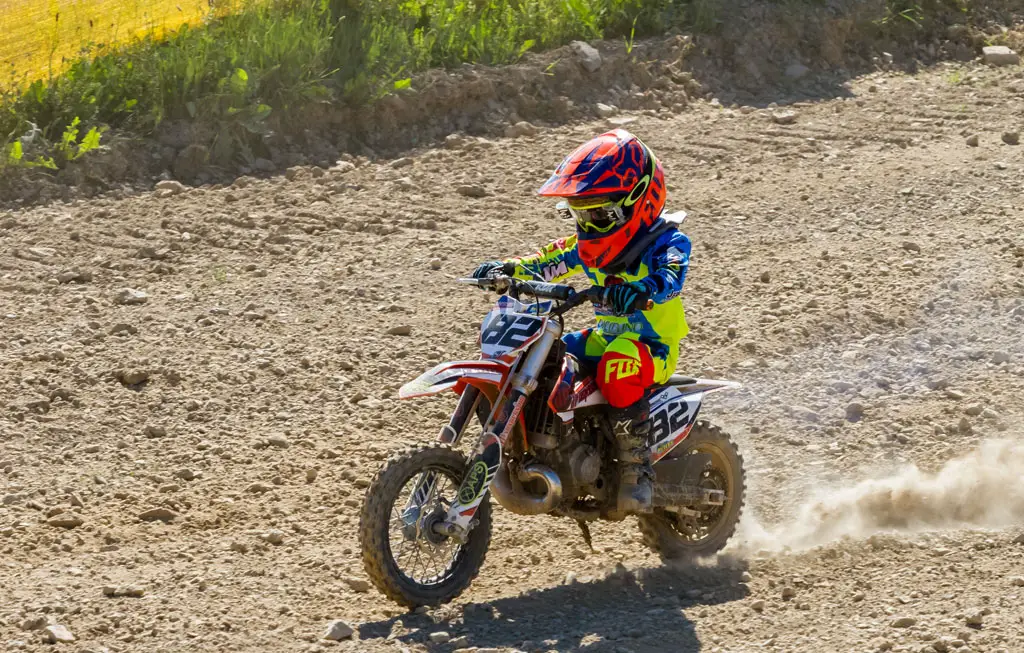 Gas Gas MC-50
Styled the same as their bigger boy bikes, the Gas Gas is again a serious bike for small serious riders, just like the KTM we have mentioned.
Not suprising as KTM bought Gas Gas in 2019, however they then sold the off road models to Rieju, a Spanish motorcycle company.
Gas Gas started manufacturing back on 1985 so the company has a good 40 years worth of experience.
The Facts:
| | |
| --- | --- |
| New Price | from $5,099 |
| Engine Type | 49cc / 2 stroke |
| Transmission | Automatic |
| Seat Height | 26.1 inches / 665mm |
| Bike Weight – no fuel | approx 41.5 kg / 91.5 lbs |
| Max Rider Weight | 45 kg / 99.2 lbs |
| Safety Features | Upgrade to reduction kit to reduce speed |
| Top Speed | ? mph |
| Maintenance Level | Medium |
MC 50 Summary: Over priced
It's got to be said, in my opinion this is an over priced bike. I mean I like it but why is the price so much more than the KTM? The spec is very similar to the KTM but at nearly $1000 more I can't justify it.
If you are a Gas Gas fan then go for it if you are serious about your kids getting into dirt bikes in a big way, but for the Best 50cc Kids Dirt Bike test I just can't give it a place in the leader board.
Final Thoughts and Overview: Best 50cc Kids Dirt Bike
Now you have seen the comparisons it is time to consider which 50cc might be a good fit for you and your little rider.
Everyone will have different requirements, so looking at the current ability and general confidence of your child, combined with your budget should steer you in the right direction. Here are the main points you probably want to take into account.
Height – getting the right seat height so you child is comfy and confident
Physic and strength – do they need a lighter bike?
Budget – Self explanitory here – (you could consider a used bike)
How often will they be riding – if you are out every weekend then maybe get a bike that will enable decent progression.
If you have the luxury of being close to dealers then getting out and trying these models is also a good idea. Getting yourself down a local club, if you have one, is another way of being able to see these dirt bikes in the flesh, and most people who attend these are friendly folk who will unlikely mind you asking questions and having a good look around.
Used Kids Dirt Bikes – Is it worth buying second hand?
Buying a second hand dirt bike can save you a good chunk of money, so it could be a good option for those who are on a tighter budget. That said if you are looking at the bikes in our list, which are all main brand bikes, they all hold their value reasonably well when they have been looked after and well maintained, so you will have to decide if the saving is justified when comparing new v's secondhand.
Generally speaking I would always recommend buying a used dirt bike for any beginner, and especially for a kid. This is because you are going to have more falls and knocks, resulting in more damage, which would be very annoying if the bike was brand spankers.
Lets look at the pros and cons of buying both used and new.
New vs Used – Pros
| | |
| --- | --- |
| New | Used |
| Immaculate bike | Cheaper |
| Warranty | Don't mind bumps and scrapes |
| Choice of spec | Lose less value when reselling |
| First user | Easier to sell as the resell price will be lower and generally more people will be interested |
| Knowledge and support | |
| Lower ongoing maintenance | |
New v's Used – Cons
| | |
| --- | --- |
| New | Used |
| Expensive | Likely more maintenance |
| Devalues as soon as purchased | More effort to make sure what you are buying is worth it |
| Kids can out grow them quickly which means it might not get riden much before trading it in | |
I have a complete post with checklist included, which maybe wise to take a look at. link below
www.projectdirtbike.com/the-ultimate-used-dirt-bike-buyers-guide-with-checklist/
Kids 50cc Dirt Bike – FAQ's
Does Kawasaki Make A 50cc Dirt Bike?
No. The smallest model of dirt bike Kawasaki currently manufacture is the KX65.
The last 50cc Kawasaki produced was the KDX 50. The last year Kawasaki manufactured this model was in 2006, so you will need to buy one second hand if you are desperate to own one of these.
The KX65cc is a 2 stroke bike that has a 6 speed gear box, making it ideal for older kids who are looking to step it up from the 50cc dirt bikes.
Can adults ride 50cc dirt bike?
Adults can ride a 50cc dirt bike although they will likely be over the recommended weight limit of the manufacturer and the physical size of the bike may mean it's uncomfortable to ride.
For adults looking to get in to dirt biking, then a slightly larger engine, like 70cc – 100cc upwards, is what I would say. Generally speaking you will get a better spec, like better suspension as well as a bigger frame, giving you more room in your legs.
How much weight can a 50cc dirt bike hold?
This varies between the manufacturers with an average weight limit being 39 kg. The smallest bike, being the PW50cc hold upto 25 kg and at the other end of the scale you have a weight limit of 45kg from bikes like the KTM and Gas Gas.
In the middle at 40kg you have the Honda CRF-50F and the Yamaha TTR50.
The average 6ft male weighs 84kg so you can see it's nearly double and the bike frame would likely take the weight, but the performance os going to struggle.
What age is a 50cc dirt bike for?
50cc dirt bikes are designed and built for children, with the approximate age range being 4yrs to 8 yrs old.
What is the fastest 50cc dirt bike?
The fastest 50cc is a 2-stroke KTM 50SX or Gas Gas MC50. You can expect to achieve a top speed of around 40 mph.
These are built to be raced and have a lot of power.
How much does a 50cc dirt bike cost?
In 2023, a new 50cc dirt bike from a leading manufacturer will cost $1699 – $5099. A used 50cc dirt bike will sell for around 25% less on average, assuming it's been well maintained and is generally up together.
What age should I get my kid a dirt bike?
This is entirely down to the parent. If you are wanting to get a child into racing, then the younger the better, because they will gain experience and build up strength quicker. If you are just looking to ride casually on the weekend for example then as soon as the kid can ride a bike I would explore a dirt bike.
The smallest is the Yamaha PW50 with a seat height of only 18.7 inches, so kids aged 4 can ride this, and you may even find the odd 3 yr old taking it on.
Related Articles:
Kids Electric Dirt Bikes – Options
As mentioned right at the start of this article, we would revisit the electric dirt bike options, albiet in brief, as it really needs an article of it's own to cover everything…and that is in the pipeline.
The market is changing and evolving more than ever at the moment, with electric dominating the focus of many manufacturers in both the car and bike world.
This is due to technological advances combined with the push for greener machines, innovation is high, which makes it really interesting follow and keep an eye on.
I personally find it interesting to see at what point you call an electric bycycle an electric dirt bike? No doubt speed is one of the main factors, but surely alot of the underlying tech is the same?
Anyway…
Electric dirt bikes for kids are available, with the most commonly bought bikes from Apollo and Razor both of which can be bought directly off of Amazon. The bigger boys like Yamaha and KTM are all enetering the market and the prices of these are alot higher, but the tech is so much better as they are built for dirt biking, where as the Amazon bikes are sold more as toys.
If you have a young kid then maybe these are the best option and the price tag is keen. Just check out the article below for a range of the best for under the $1000 mark.
Related Article: Best Electric Dirt Bike Under $1000: A Detailed Guide With Pricing
In the meantime I will be keeping an eye on the developement in this sector and writing where possible to report back any findings.
Published: Jan 22, 2023 – Last updated: Jan 22, 2023