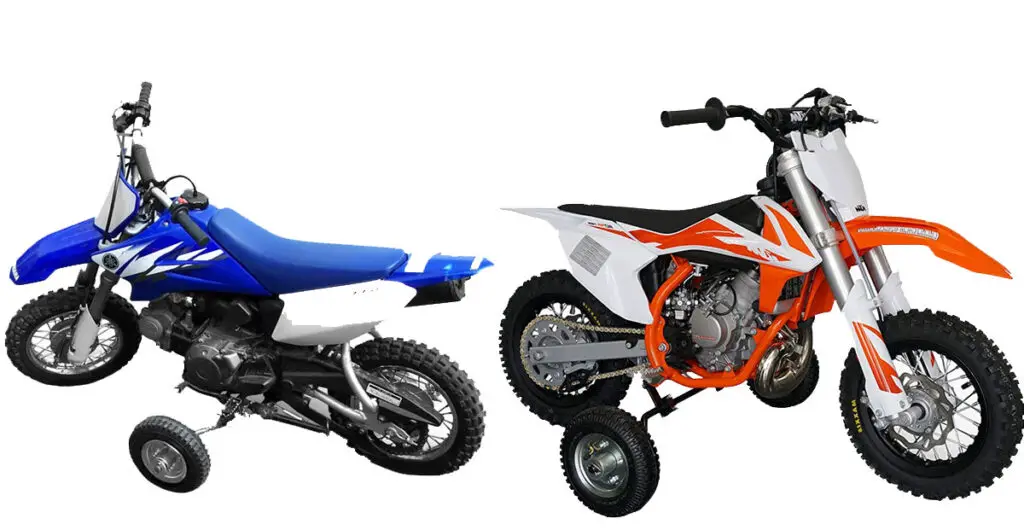 Training wheels are designed to help a young rider learn how to balance whilst riding their bike. Originally designed for pedal powered bikes, you can also get training wheels for dirt bikes. The principle is same, although the setup position of the training wheels is different.
Most people will know that bycyle training wheels (also known as stabilisers in the UK) get mounted on the rear axel of a bycycle, one on either side.
The training wheels for a dirt bike, get mounted in the center, between the front and back wheels. The basic design is a lenth of metal rod that gets fixed to the frame and has one pneumatic wheel on each end. The bycycle version will usually have solid plastic wheels.
This article will walk you through everything you know about dirt bike training wheels, so gets get stuck in.
Does Your Child Need Training Wheels?
This is the first question you need to ask yourself, because not all kids are going to need them. If your child is a bit older than other beginners, perhaps taller, is confident, can already ride a push bike well, and is eager, then there is a good posibilty that they can skip the training wheels altogether.
The reasons you want to consider getting yourself a set, are if your young one falls into one or more of the following:
The child is nervous and lacks confidence
They are very young – it's more common for little ones to have them because of their lack of height and strength.
They struggle to touch the ground when sat on the dirt bike
The dont have much or any experience on a bycyle or balance bike
There is also an ongoing debate as to whether they are a nessecary tool at all. Some people will tell you that they actually hold the rider back because they won't be able to fully engage with how the bike should operate and react when riding, and in particular when going around corners.
Personally I think if used correctly, then dirt bike training wheels are a great tool, which can enhance the riders confidence and learning of early riding skills, as long as they don't become reliant on them. It's the job of the parent or teacher to be able to transition them off of the training wheels enabling them to progress. This is matter of timing and we will have a look at that next.
How To Use Training Wheels Properly – including how to transition off of them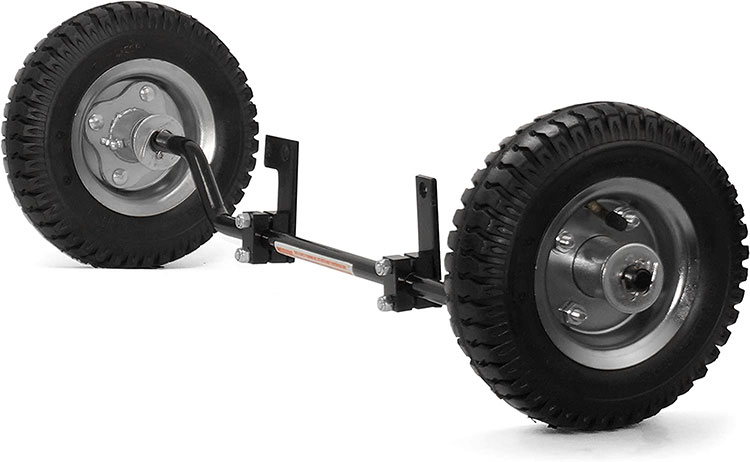 Original training wheels are designed in such a way where you would never be able to have both of the training wheels in contact with the ground at any one time.
You are either leaning slightly left or slightly to the right, creating a rocking motion when you are in the stopped position.
The reason for this is because they are meant to steady the rider from falling off the bike when they are not great at balancing. If both of the training wheels are touching the ground then this doesn't do that. The rider simply now has a 4 wheels on the ground and has created a fully stable base.
This is the main reason I will only recommend adjustable wheels. ( more on these later)
So to use training wheels properly you will first install them so they are just an inch or 2 above the ground. This dictates that the rider will likely always have 3 wheels in contact.
As the the rider gains confidence you need to increase the gap between the wheel and the ground as much as you think the rider will cope with, but increasing it again as soon as they are comfortable with the new setting.
This will give the nipper a great chance of progressing to the maximum setting as quickly as it allows. It will mean they wont become overly reliant on them, and they can feel as much of the bikes reactions as possible whilst the training wheels are still installed.
It's only natural that some kids will take longer than others and it's probably the parent who will best be able to judge when the adjustments need to be made.
When the training wheels are maxed out, the end goal is for the rider to achieve a balance with only the dirt bike wheels touching the deck, the training wheels will be hovering and only there when cornering or if they become unsteady.
Taking Off The Training Wheels:
Inevitably there will become a time when they have gained enough experience on the max setting, that the only thing left to do is to remove the training wheels.
I would recommend going to a relitivley flat location for the first time, making it as easy as possible to ride unhindered. Whip the training wheels off and let them get on with it.
Hopefully they are confident enough to go a fair pace because its harder to balance the bike at slower speeds.
There is a good chance your bike has a throttle limiter and as the rider gains confidence on the training wheels you want to be allowing them an increased speed limit. If you have it set low then there is more chance the rider will fall when the training wheels are removed for the reason I have just given above… balance.
Co-ordinating these 2 things will give the rider the best chance.
I have an article about 50cc dirt bikes which tells you when a model has a speed limiter and you can check it out here – What Is The Best 50cc Dirt Bike For Kids? – 2023 Ultimate Guide
The Best Training Wheels For Your Dirt Bike
If the dirt bike you have has the option of getting training wheels from the manufacturer then this will always be the best option in term of fit as they would of been made for your model.
Budget wise it may not be the best option but there are other options available so lets have a look at the best generic / universal training wheels as well as model specific sets for the popular brands.
Most of these sets will cost between $80 and $120
Training Wheels for Yamaha PW50
Also know as the PeeWee, the Yamaha is one of (in not the most) common 50cc kids dirt bike out there, and has been manufactered for over 40 years.
If you live in the UK you can get genuine PW-50 training wheels from Tinkers , link here – Genuine Yamaha PW50 Training Wheels – Tinklers Motorcycles Strange that you cant seem to be able to purchase these from the Yamaha website in the US or UK!
A great option for US residents are these from PWonly.com – Adjustable PW50 Training Wheel Kit – PWOnly.com – Yamaha PW50 & PW80 Parts Made specifically for the PW50 but not official Yamaha, they are adjustable and made in the USA.
Your other option for the PW50 is to go for this set , again designed for the PW50 but not genuine Yamaha. – ADJUSTABLE YAMAHA PW50 TRAINING WHEELS (safelyride.com)
Training Wheels for Yamaha TTR-50
Training wheels for TTR50 will have to be 3rd party sets as no genuine Yamaha ones are available. Safelyride.com do offer these as well as the PW50 ones above and they can be found here – ADJUSTABLE YAMAHA TTR50 TRAINING WHEELS (safelyride.com)
They are adjustable, which is a big plus in my book, offering a 3 inch tip on both sides ( 6 inch total) and are reasonably priced.
Another option is the universal adjustable training wheels from Hardline which I talk about more about in a moment, just below. They are compatible with the TTR50 and a good option – you can find them available from Amazon here – Hardline Adjustable Training Wheels
If you are not bothered about having an adjustable set then you can head over to recognised websites such as revzilla and rockymountainatvmc, but I would always recommend pneumatic tyres over solid plastic wheels so do keep an eye out for that when looking through those sites.
Training Wheels for Honda CRF-50F
The Honda CRF-50F is another great bike but no manufacturer training wheels are available for this. 3rd party is your option here and like with thr TTR-50 above you have 2 main options.
Hardline Training Wheels – A very good option as a universal set, also makes selling on after you have finished with them a lot easier. They are adjustable and easy to fit. Available on Amazon here
or
SafelyRide.com – These are a similar set that they offer for the Pw50 and TTR50. Built for the Honda CRF you know they will fit perfectly and they are adjustable.
Universal Adjustable Training Wheels from Hardline
For any other type of dirt bike you will be looking at a set of universal training wheels and Hardline have great product that does exactly this.
You can search the web and find many alternatives and if you do just make sure you go for a set with pneumatic tyres, not solid plastic which are just nasty, and adjustable. You will find that there isn't much in the price if any between adjustable or not so i just can see a good reason not to have this option.
Hardline Training Wheels are available for gas bikes like the models I have mentinoed above, as well as most I havent mentioned, and they also make them for electric dirt bikes like the commonly owned Razor.
The common 'wheels-4-tots' model comes with 8 inch pneumatic tyres, is simply to install and easily adjustable. You dont have to be a mechanic to get it up and running.
Here is the link direct to their 'wheel-4-tots' model on Amazon – Here and if you are after the set for Razor dirt bikes it's here.
How To Install Dirt Bike Training Wheels
Installing dirt bike training wheels is a straight foward process for the most part. You definitley don't need to be a mechanic, just a bit of common sense and a couple of tools like a ratchet and pliers which most people already own.
Install video for Hardline Training Wheels
I love the fact that the hardline trainer fixes into the foot peg brackets so no further modes are required. It's quick and easy and totally safe.
The other common way of installing training wheels is to bolt the axel bar onto the bottom of the frame. This is also very simply and
Dirt Bike Training Wheels FAQ's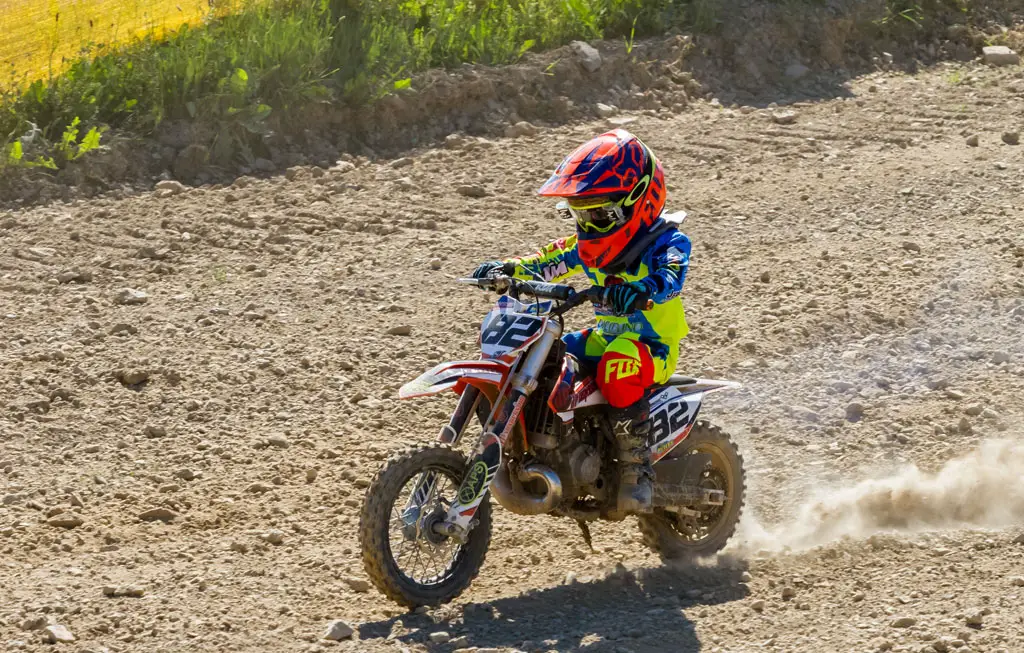 Can You Put Training Wheels On Any Dirt Bike?
Most dirt bike training wheels are designed for 50cc's, putting them on higher powered bikes would be dangerous due to the higher speeds they can reach.
Not all manufacturers sell them though, so if you have a brand of bike that doesn't offer them, you will be looking at a universal set which are readily available. More on those in abit.
Can you put training wheels on razor dirt bike?
Yes, adding training wheels to the Razor is a simple process and you will want a universal training set from which can be readily obtained from Amazon at a reasonable price.
Is there a weight limit for training wheels?
The weight limit is set by the bike rather than the training wheels. For example a Yamaha PW-50 weight limit is 25kg and you will exceed that before you do the max weight of the training wheels.
Likewise a TTR-50 has a 40kg weight limit and the same applies.
Can you put training wheels on a TTR50?
Yes you can. You can purchase training wheels specifically built for the TTR-50 or a opt for universal fitting set. You can see both options above in this article.
When Do Dirt Bike Training Wheels Come Off
When the rider is confident and has learnt how to balance the bike well, the training wheels can be adjusted to there maximum height. After this has been achieved, removing them fully is the next step.
The rider should now be able to control and steady the dirt bike with training wheels and using abit of speed will help as slower moving makes it harder to balance.
Related Articles
Published: Jan 23, 2023 – Last updated: Jan 23, 2023